Cristiano Ronaldo was displeased with Ralf Rangnick's substitution of him at Brentford last night.
Man United manager Ralf Rangnick has defended his decision after Ronaldo expressed his displeasure at being sent off during his side's 3-1 win against Brentford.
Manchester United's top-four dreams were strengthened by goals from Anthony Elanga, Mason Greenwood, and Marcus Rashford in a Premier League victory in west London on Thursday night.
The visitors, on the other hand, put forth another lackluster performance, and Cristiano Ronaldo was less than impressed when he was substituted with 19 minutes remaining.
United needed a much better second half performance to achieve their first league win of 2022, but Rangnick was forced to respond to concerns regarding Ronaldo's response after being replaced by Rashford with United leading 2-0 at the Brentford Community Stadium.
Rangnick told BT Sport, "That is typical – a striker wants to score." "However, he has recovered from a little injury, and it's vital to remember that we have another game coming up."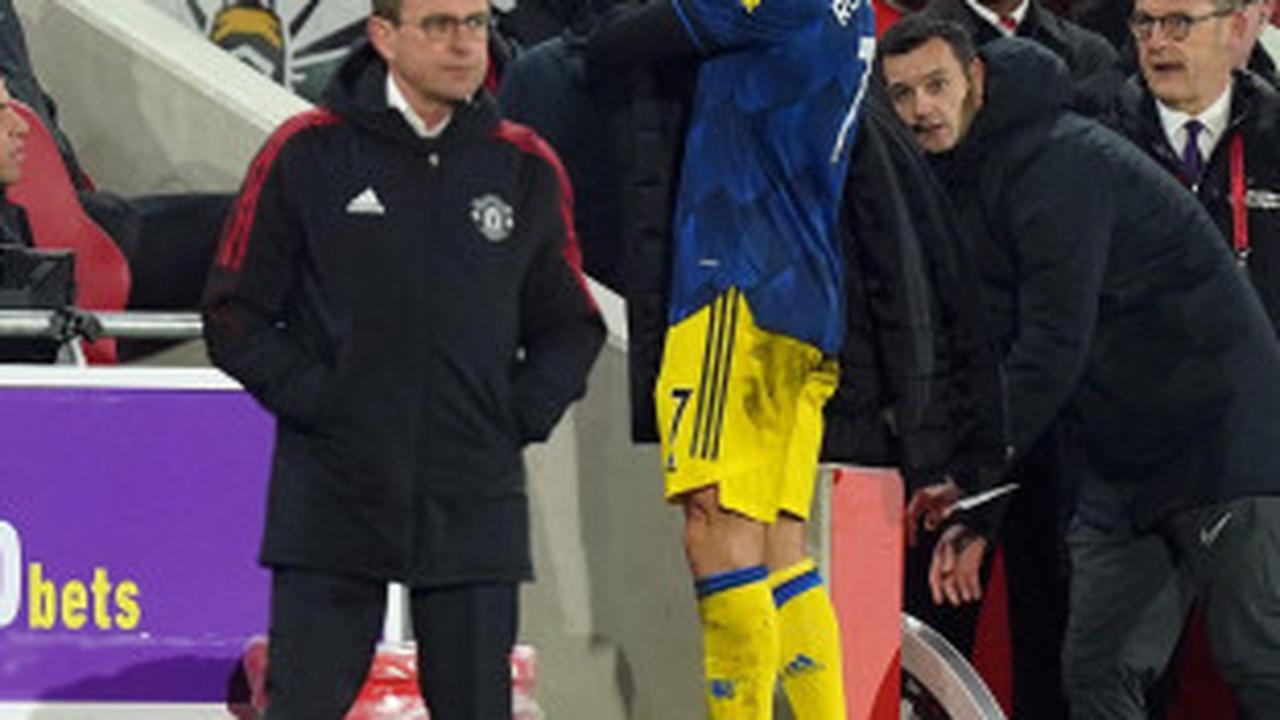 "After what occurred at Villa Park, we needed to defend the lead this time, so we went back to a back five, and while we didn't keep the clean sheet, we needed to make sure nothing more happened."
"The only reaction I received was, 'why me?'" Rangnick said later in the post-match press conference. 'What were you thinking when you took me away?' In the best interests of the team and the club, I had to make a decision. We did the same thing against Villa when we were 2-0 up, and we didn't want to repeat the error.
"I understand Cristiano's ambition, but I'm sure he'll make the same decision after 75 minutes as a manager in the future."
"I wasn't expecting him to hug me when he was replaced." I understand how goal scorers think, and I had to make this choice. Cristiano is someone with whom I have no issues. He'd been out for a week and a half, recovering from an injury. Why not utilize Rashford and Anthony Martial, who were both on the bench? I would make the same choice if I had to do it all over again.
"I've been here six weeks and have never had a problem with Cristiano." We talked about his injuries before the Villa cup game and decided not to employ him.
"He became available again today, so we decided to start him right away." What matters most is that we win games, and that comes first."
Ronaldo's Playing Time Under Rangnick
Man Utd 1-1 Crystal Palace, Dec 5 – 90 mins
Man Utd 1-1 Young Boys, Dec 8 – Not in squad
Norwich 0-1 Man Utd, Dec 11 – 90 mins (scored winner)
Newcastle 1-1 Man Utd, Dec 27 – 90 mins
Man Utd 3-1 Burnley, Dec 30 – Subbed after 89 mins (scored third goal)
Man Utd 0-1 Wolves, Jan 3 – 90 mins
Man Utd 1-0 Aston Villa, Jan 10 – Not in squad (injured)
Aston Villa 2-2 Man Utd, Jan 15 – Not in squad (injured)
Brentford 1-3 Man Utd, Jan 19 – Subbed after 71 mins
Anthony Elanga built on his performance against Aston Villa to help United reclaim their mojo. Bruno Fernandes' impact grew throughout the game, and he deserved to finish off a strong individual performance with a goal to go with his two assists in stoppage time.
SEE ALSO
It was Fernandes' third time providing multiple assists in a Premier League game, and no player has done so more in the division since his debut in February 2020.
VIDEO BELOW
Despite this, he exited the field still regretting his late miss, demonstrating his high standards. This is the mindset United must adopt if they are to achieve the bare minimum of a Champions League berth.
Cristiano Ronaldo 's response to being substituted reflected this winning mindset, but he must admit that he must control his displeasure if the team is to prosper at Old Trafford.
After all, throughout the first half, a victory by such a large margin didn't appear likely .