All Stars Match: Liga MX has named the first 14 players that will compete in the 2022 All-Star game versus Major League Soccer.
On Wednesday, August 10, the best players from both leagues will square off at Minnesota United's Allianz Field stadium.
Tigres attacker Andre-Pierre Gignac, as well as current Mexico internationals Kevin Alvarez and Luis Chavez, are among the first round of players. Each of the first 14 picks is a Balón de Oro nominee in the categories of best goalkeeper, central defender, fullback, defensive midfielder, attacking midfielder, forward, and rookie in Liga MX.
Following the Balón de Oro ceremony on June 25, when the Coach of the Season award winner will be named, the full roster will be unveiled.
With the exception of the 26th player, who will be chosen by Liga MX executive president Mikel Arriola, the winner of that award – either Diego Cocca of Atlas FC or Guillermo Almada of C.F. Pachuca – will choose the rest of the roster.
The first 14-man roster is as follows:
1. Goalkeepers
Camilo Vargas, Atlas FC (Clausura 2022 best eleven, LIGA MX 2022 Clausura MVP)
Oscar Alfredo Ustari, C.F. Pachuca (Best goalkeeper nominee)
2. Defenders
William Tesillo, Club León Hugo Nervo, Atlas FC (Clausura 2022 best eleven, Best central defender nominee)
Hugo Nervo, Atlas FC (Clausura 2022 best eleven, Best central defender nominee)
Diego Barbosa, Atlas FC (Best full-back nominee)
Kevin Álvarez, Club Puebla (Clausura 2022 best eleven, Best full-back nominee)
3. Midfielders
Aldo Rocha, Atlas FC (Clausura 2022 best eleven, Best defensive midfielder nominee)
Luis Chávez, C.F. Pachuca (Best defensive midfielder nominee)
Ángel Mena, Club León (Best attacking midfielder nominee)
Julián Quiñones, Atlas FC (Clausura 2022 best eleven, Best attacking midfielder nominee)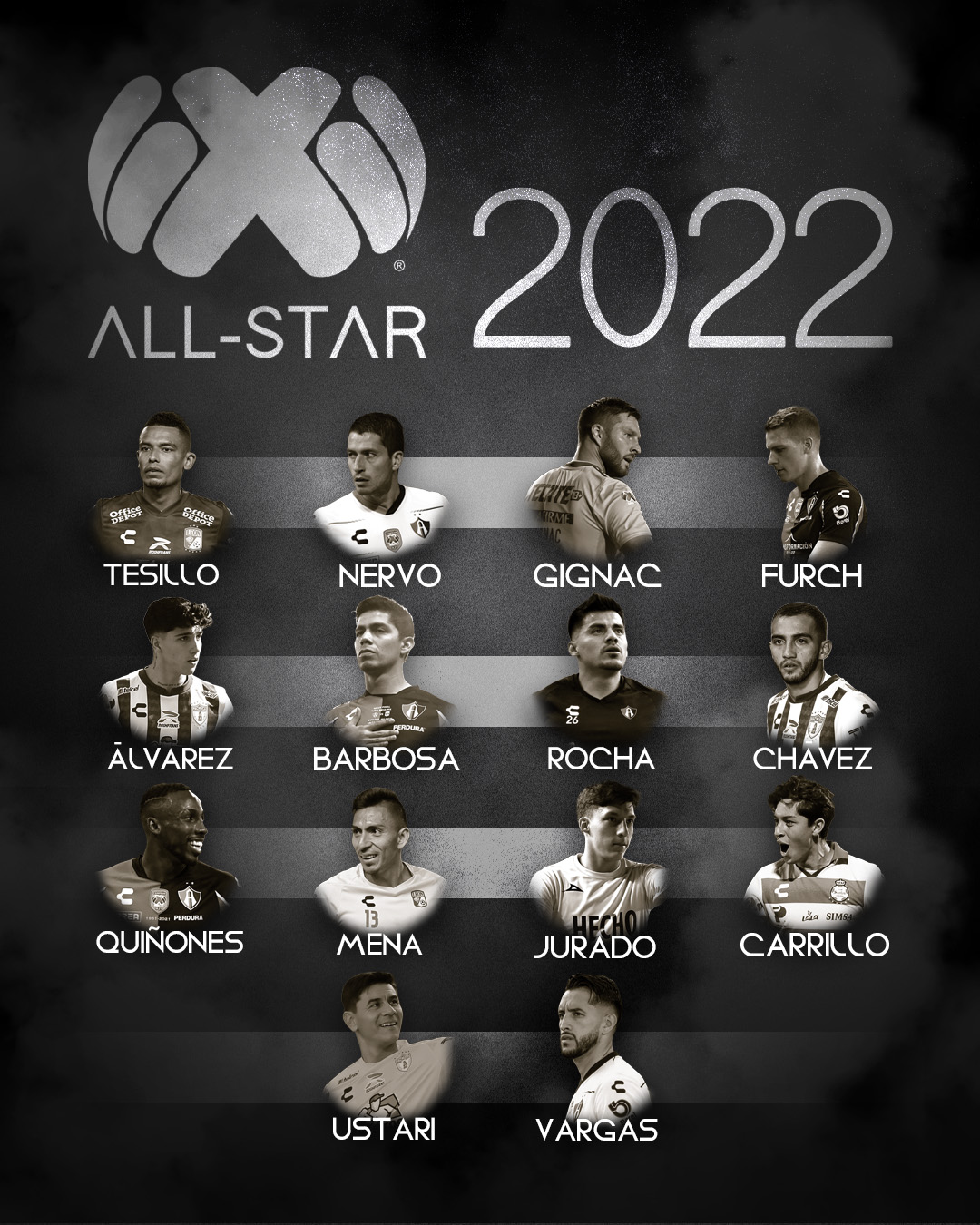 4. Forwards
André-Pierre Gignac, Tigres UANL (Clausura 2022 best eleven, Liga MX 2022 Clausura Golden Boot recipient, Best forward nominee)
Julio César Furch, Atlas FC (Best forward nominee)
5. Rookies
Jordan Carrillo, Club Santos Laguna (Best rookie nominee)
Heriberto Jurado, Club Necaxa (Best rookie nominee)