This page displays the most valuable XI in the world, as determined by the Top 5 Leagues in Europe. The XI's makeup is determined by the players' current form, contributions in their respective teams, and market value.
These are the most sought-after players on the market right now, and we're going to talk about them in this article.
These are the players:
Jan Oblak
Jan Oblak is the seventh most valuable player in LaLiga, with a market value of €60.00 million.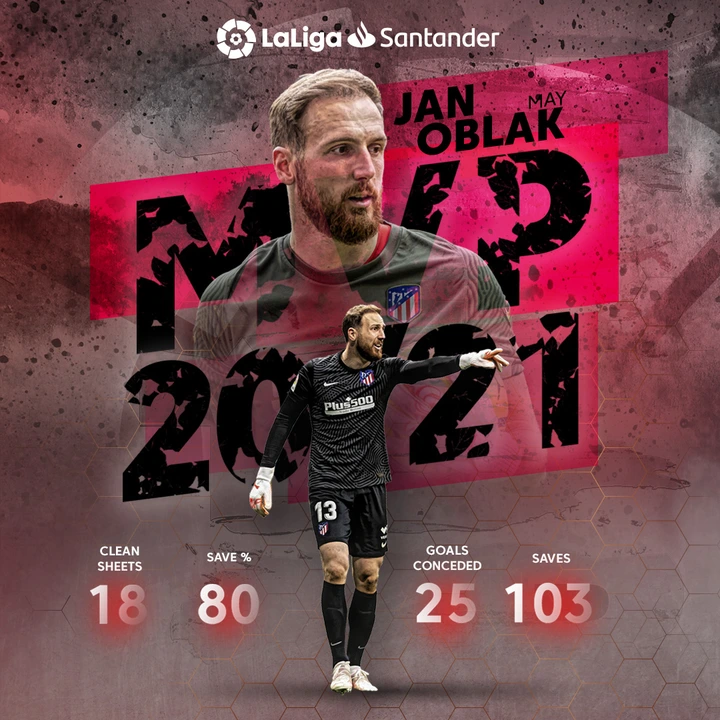 Jan Oblak, the goalkeeper for Atletico Madrid, has been named La Liga's Most Valuable Player for the season that just ended. The goalkeeper was awarded the most valuable player ahead of Lionel Messi, Karim Benzema, and Luis Suarez, who all contributed significantly to his team's performance and La Liga Trophy win.
In Atletico Madrid's trophy pursuit, the Slovenian was crucial, saving 103 shots fired at him. Jan Oblak has 15 clean sheets to his name while conceding only 25 goals. He was perhaps his team's best player when they won the La Liga title over Barcelona and Real Madrid, two sides who had previously dominated the league.
Ruben Dias
Ruben Dias has only been with Manchester City for one season, but since his arrival last summer, he has been a revelation. Dias has cemented his spot in Pep Guardiola's Man City, with a current value of €75.00 million.
Ruben Dias has only been with Manchester City for one season, but since his arrival last summer, he has been a revelation.
In his first season in English football, the 24-year-old centre-back made an immediate impact. Dias was a stalwart in City's defense, assisting Guardiola's team to their third league title in four years. Dias was named Premier League Player of the Year for his efforts last season.
Matthijs De Ligt
In Serie A, Matthijs de Ligt is the most valuable player.
The Dutch defender secured a hefty €65 million transfer to Juventus in the summer of 2019 after a fantastic few seasons with Ajax.
De Ligt's profile, age, and the fact that he has already moved for such a large price are all key considerations in his ranking as Serie A's most valuable player.
He's worth €76 million, which is quite similar to what Juventus spent for him a few years ago.
Reece James
Reece James (ENG) presently plays for Chelsea as an inverted wing-back. Reece James is 22 years old (as of December 8, 1999) and stands 182cm tall. Right is his favoured foot. His number is 24 on the jersey. Reece James has also played as a defensive back and a wing-back.
The current transfer value of Reece James is between €55 million and €60 million. His contract with Chelsea runs until June 25th.
In terms of fullbacks, James has risen to the top of the rankings. We can't be obtuse in our thinking and dismiss both Alexander-Arnold and Cancelo's abilities – both are outstanding players for their respective teams – but when it comes to the complete full-back, James takes the lead.
Theo Hernández
According to CIES, AC Milan's explosive full-back Theo Hernandez is currently the seventh most valuable player in Serie A, with a market value of €48 million.
Hernandez joined Serie A club AC Milan in a contract worth a maximum of €20 million on July 7, 2019. Paolo Maldini, who met with him informally in Ibiza to convince him to join, sanctioned and carried out the transfer.
Hernandez made his official debut on September 21, 2019, in the Derby della Madonnina, where he played 18 minutes in a 2–0 loss against Inter Milan. On 5 October, he scored his first goal for the Rossoneri, assisting on the visitors' 2–1 victory over Genoa.
Hernandez's contract will end in 2024, but the Rossoneri are already in the process of renewing it, which would involve a significant pay increase.
Joshua Kimmich
Joshua Kimmich is a world-class player in two positions and is presently valued at €85 million.
Kimmich, Philipp Lahm's heir apparent at Bayern Munich and Germany, has been a phenomenon for quite some time. The 26-year-old is known for his versatility, passing, and tactical acumen, having spent his early years at Bayern Munich, where he was tutored by Pep Guardiola.
In the previous Bundesliga season, Kimmich made 25 starts, mostly in midfield. As Bayern Munich won their third Bundesliga title, he scored four goals and added ten assists. Since his debut in 2016, Kimmich has been a constant for Germany.
Bruno Fernandes
Bruno Fernandes is on the list despite having had a difficult time at United and not performing well in recent matches. Despite a sluggish start to the season, he is still valued at €95 million.
The Portuguese midfielder, who is currently ranked seventh, has risen in the rankings since last year. United's key player, who is always spot on in the penalty box, scoring goals and assists while also saving the team on numerous occasions.
For these reasons, as well as his performance, he is a valued player for both his club and his country. He was Man United's top scorer (19 goals) and assist provider for the year (18 ).
Mohamed Salah
Mohamed Salah, once dubbed a one-season wonder, once again proved his worth. The Egyptian magician has a total of 39 G/A in 32 games in the competition.
The Egypt international is presently valued at €100 million, and he is truly deserving of that sum.
In 2021, he becomes the first player in Premier League history to score in 11 consecutive games.
So far in the 2021/2022 season, he is the only player in the Premier League to score 10 goals and provide 10 assists.
Vinicius Jr
Vinicius Junior is unstoppable this season, demonstrating his worth and the money Real Madrid paid on him. He is done everything this season, from scoring a goal in the Classico versus Barcelona to scoring late goals for the club.
He has already scored 10 goals and added four assists in 19 La Liga outings for Los Blancos. Vicicius Jr, who is valued at €100 million, has had a strong season.
If he keeps up his current form, the young Brazilian could wind up winning the Ballon d'Or in the future.
Erling Haaland
The goal machine has proven this tagline since his entrance in the league, scoring 76 goals in 75 games for Borussia Dortmund. Haaland is the world's second most valuable player, with a market capitalization of €150 million.
In 14 UCL appearances, he became the youngest player to achieve 20 goals. Haaland, a superlative striker capable of scoring every type of goal, is already one of the top players in the world at the age of 21.
In 11 games this season, the Norwegian striker has already scored 13 goals. His Dortumand statistics demonstrate why he is ranked second on the list.
Kylian Mbappe
Kylian Mbappe, once a wonder youngster and now a fully established footballer, is a name to keep an eye on. Mbappe is without a doubt the most valued player in football.
The France international, who is presently valued at €160 million, is the most valuable player in the world, despite the fact that he is still under the age of 25.
He has already proven why he shines on the surface at the age of 23. He has done it all: won the World Cup, scored in the final, and scored a hattrick at Camp Nou.
In the last four years, the 23-year-old forward has routinely ranked among the world's greatest players, and it only seems a matter of time before he wins the Ballon d'Or.
Aside from these players, here is a comprehensive list of 2022's most valued players:
| Rank | Player | Age | Market Value |
| --- | --- | --- | --- |
| 1 | Kylian Mbappé | 23 | €160.00m |
| 2 | Erling Haaland | 21 | €150.00m |
| 3 | Vinicius Junior | 21 | €100.00m |
| 4 | Mohamed Salah | 29 | €100.00m |
| 5 | Harry Kane | 28 | €100.00m |
| 6 | Romelu Lukaku | 28 | €100.00m |
| 7 | Bruno Fernandes | 27 | €90.00m |
| 8 | Kevin De Bruyne | 30 | €90.00m |
| 9 | Neymar | 29 | €90.00m |
| 10 | Phil Foden | 21 | €85.00m |
| 11 | Jadon Sancho | 21 | €85.00m |
| 12 | MarcusRashford | 24 | €85.00m |
| 13 | Joshua Kimmich | 26 | €85.00m |
| 14 | Raheem Sterling | 27 | €85.00m |
| 15 | Pedri | 19 | €80.00m |
| 16 | LautaroMartínez | 24 | €80.00m |
| 17 | Trent Alexander-Arnold | 23 | €80.00m |
| 18 | Jack Grealish | 26 | €80.00m |
| 19 | Sadio Mane | 29 | €80.00m |
| 20 | Heung-min Son | 29 | €80.00m |
Most Valuable XI in the World