Premier League teams spent more than £272.6 million on football agents in 2021-22, with league champions Manchester City spending the most.
After numbers released on Thursday indicated that payments given to agents by Premier League teams had reached record levels, football's post-Covid reset appears to be a fast-fading concept.
Despite all the discussion about football having to cut back on transfer fees and wages in the wake of the pandemic's financial disaster, the 20 top-flight clubs managed to pay £272.6 million to agents in the year ended February 1.
Due to Covid, Premier League games were played behind closed doors for large portions of that year, while clubs like Manchester City, United, and Chelsea sent £35 million, £29 million, and £28 million to players' representatives, respectively.
Several key players, including Kevin De Bruyne, had their contracts renewed by City.
Manchester United are the second-highest spenders, having paid almost £29 million to agents in a year that saw them recruit Cristiano Ronaldo, Jadon Sancho, and Raphael Varane.
Chelsea finished third with a budget of slightly over £28 million, with a substantial portion of that going to Romelu Lukaku's agent Mino Raiola following the striker's £98 million signing from Inter Milan.
After spending £222 million on new players in the summer of 2020, the Blues paid £35 million in agent fees the previous year.
Liverpool is next on the list, having spent £22 million, while Brentford spent £3.5 million and Southampton £5 million.
The total figure is just slightly higher than the £272.2 million recorded last year, but it continues to climb despite certain Premier League clubs grappling with debt-related issues.
Everton, for example, announced last week in their records that they have been losing over £100 million every year for the past three years. Despite this, the Merseyside club spent £11.5 million on agents last year.
Brentford supporters will be thrilled to learn that the club spent just £3.5 million on agents' fees last season, which would be excellent value if they were to remain up. The Bees are now 15th in the Premier League, eight points clear of the drop zone.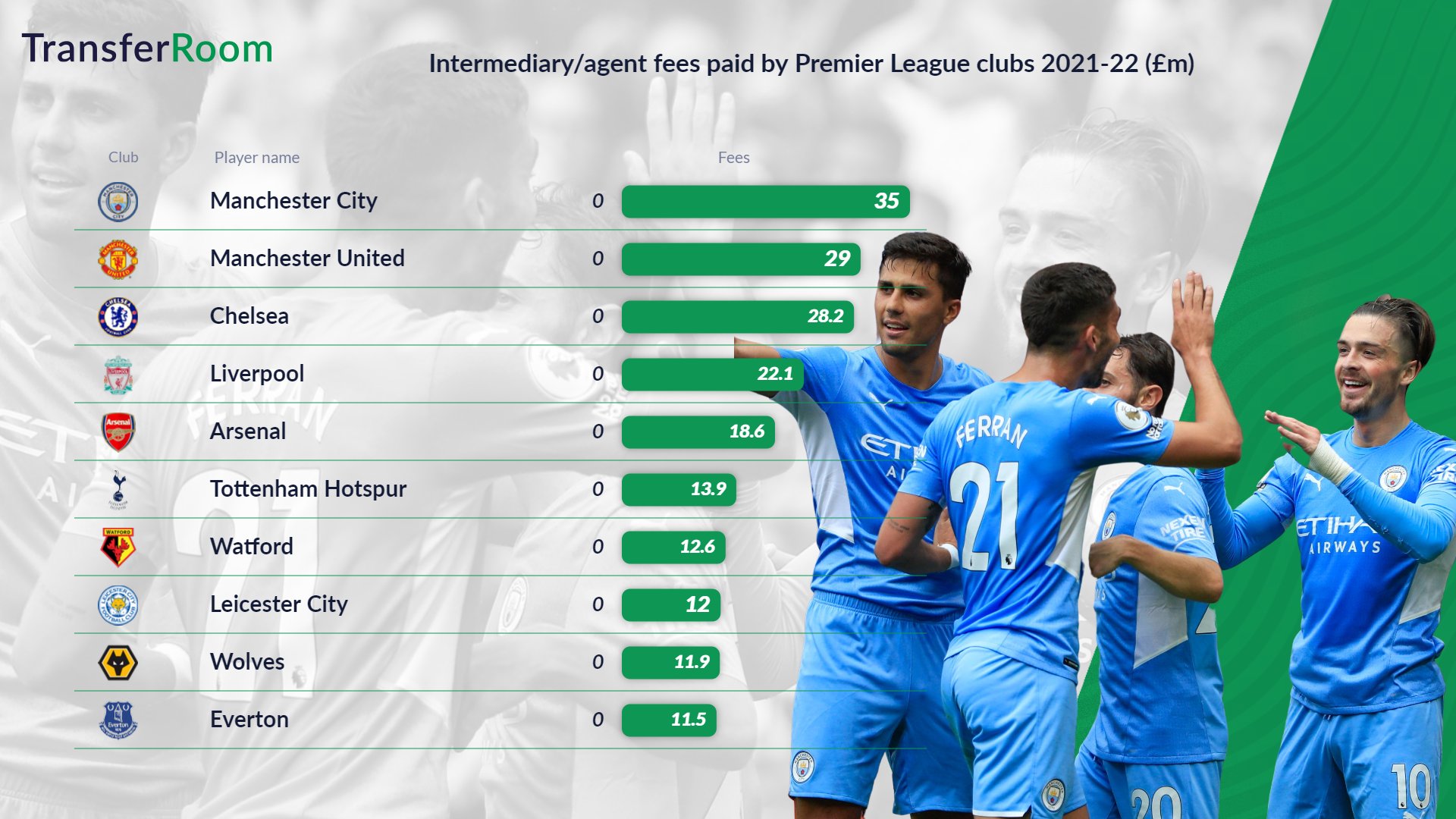 Watford supporters will be incensed to learn that the club spent £12.6 million on agents' fees in the previous year, placing them sixth overall and behind only the Big Six, only to find themselves in the relegation zone.
Newcastle only spent £7.7 million on agents' fees last year, but that figure is anticipated to skyrocket after their £94 million January purchasing binge and with more new recruits expected this summer.
Agents are still quite important in the buying and selling of players. They're also compensated for their contributions to contract renegotiations.
In 2021/22, how much did each Premier League club spend on agent fees?
| | |
| --- | --- |
| Arsenal | £18,652,818 |
| Aston Villa | £9,557,054 |
| Brentford | £3,499,285 |
| Brighton | £6,244,039 |
| Burnley | £6,005,185 |
| Chelsea | £28,227,858 |
| Crystal Palace | £8,865,483 |
| Everton | £11,494,820 |
| Leeds | £11,396,947 |
| Leicester | £12,046,495 |
| Liverpool | £22,136,224 |
| Manchester City | £35,046,646 |
| Manchester United | £29,036,141 |
| Newcastle | £7,717,687 |
| Norwich | £8,667,246 |
| Southampton | £4,941,761 |
| Tottenham | £13,938,231 |
| Watford | £12,593,435 |
| West Ham | £10,532,927 |
| Wolves | £11,958,945 |
| Total | £272,559,227 |
Total Amount spent on Agent fee in EPL