Liverpool has scored 14 headed goals out of 85 Premier League goals in 33 matches so far and with 5 matches more to go.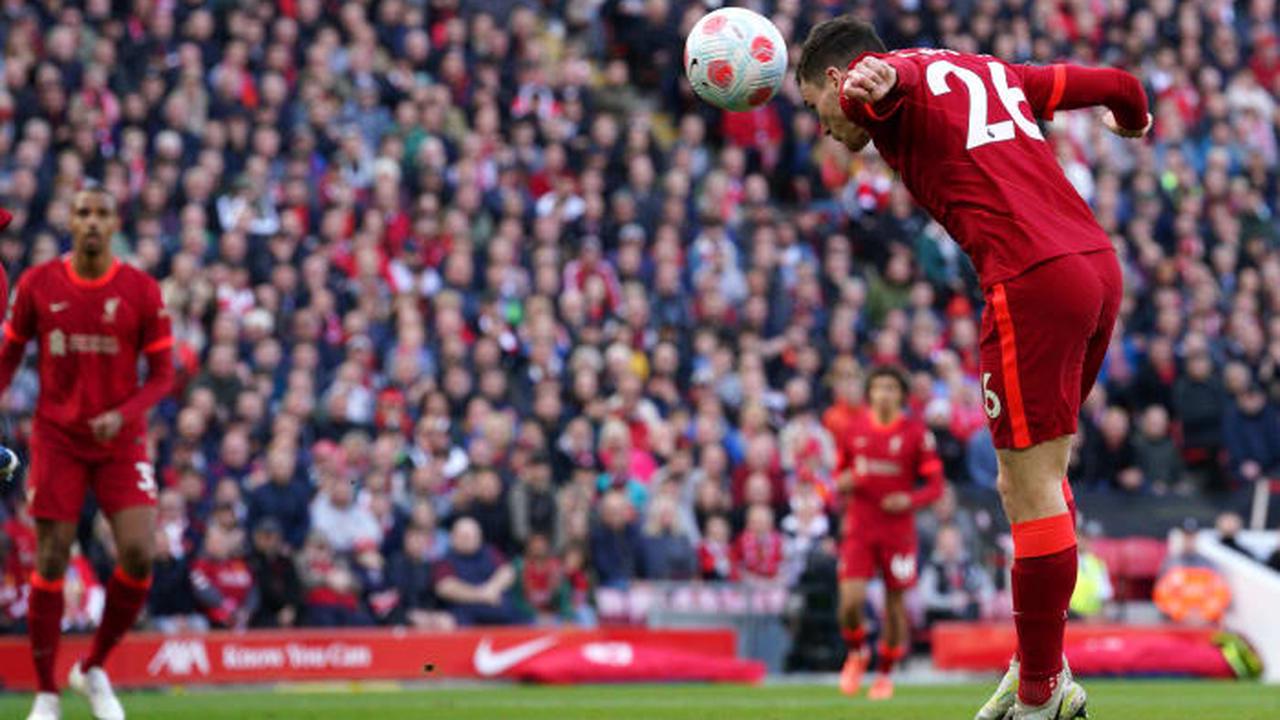 Headers were directly responsible for both of Liverpool's goals in their 2-0 victory over Everton.
Divock Origi added to his already impressive record against Everton by converting an incredible assist from Luis Diaz.
After 85 goals in the Premier League this season, Liverpool is the league's leading goal scorer, with Manchester City second on the list with 80 goals.
Fourteen of those 85 goals (16.47 percent) have come via headers, making Liverpool the top-scoring team in the Premier League in terms of headed goals.
Most Headed Goals In 2021/22 Premier League.
| Team | Headed goals |
| --- | --- |
| 1. Liverpool | 14 |
| =2. Chelsea | 11 |
| =2. Newcastle | 11 |
| 4. Man City | 9 |
Chelsea and Newcastle United are tied for second place in the Premier League this season with 11 headed goals each.
Leeds United has scored the fewest headed goals in the English Premier League (2021/22), with just two. Daniel James has tallied both of those goals for us.
In the Premier League in the years 2021/22, the most headed goals were scored.
Diogo Jota has scored the most headers in the Premier League this season, which puts him in first place overall.
Callum Wilson, Thiago Silva, Danny Welbeck, Kai Havertz, Emmanuel Dennis, and Ben Mee have all scored three goals thus far, while Jota has scored four and six other players have scored three each.
Robertson has scored two goals with his head and provided four assists.
How many goals does Liverpool have this season?
In their home games, Liverpool has had fantastic results, with 14 wins, 3 draws, and 0 defeats so far this season. Furthermore, their away form is considered to be excellent, with a record of 10 wins, 4 draws, and only two losses. Liverpool has scored a total of 85 goals in the Premier League thus far this season.
The Liverpool Football Club has scored 10205 goals in 5849 competitive matches, according to the LFC history database.
204 of those goals have been scored by the opponent, and 537 have come from the penalty spot.
Liverpool FC has 464 players who have scored a goal for them.
Liverpool FC has 427 players who have scored a league goal for them.
Liverpool has scored an average of 1.7 goals in each of their games this season.
Since the formation of Liverpool FC in 1892, 786 players have appeared in competitive matches for the club.
Since the 1893-1894 season, a total of 15237 players have taken the field against Liverpool FC.
When it comes to the Premier League final weeks, the struggle between Liverpool and Manchester City is well and fully underway as we get closer to the big day. Meanwhile, the team is attempting to make history by being the first to win four major championships in a single season.
That would surely be a great accomplishment, but suffice it to say that, whatever they do from here on out, the present roster will undoubtedly go down in history as one of the best the club has ever fielded in terms of talent and ability.