Cristiano Ronaldo scored his 100th Premier League goal, but Arsenal's 3-1 victory over Manchester United at the Emirates Stadium was not enough to keep them in fourth place.
For the first time since he and his partner Georgina Rodriguez confirmed the death of their infant son, Ronaldo was back in the United team.
The Portugal international scored in the first half of the match to bring his team back from a 2-0 deficit, and he later paid respect to his child following the tragedy.
Ronaldo scored his historic goal in the 34th minute, pulling a goal back for Man Utd after they fell behind to Nuno Tavares' early goal (3) and Bukayo Saka's penalty.
Watch the goal below:
Despite being down, United fared far better than in their 4-0 thrashing by Liverpool in midweek, and they were awarded a penalty of their own early in the second half after Tavares' bizarre handball.
However, they were unable to capitalize when Bruno Fernandes' penalty struck the outside of the post, and it proved to be a costly error as Granit Xhaka scored a thunderbolt of a goal to secure what could be a critical victory in Arsenal's effort to qualify for the Champions League next season.
With a win, Arsenal would move into fourth place in the Premier League, three points ahead of Tottenham Hotspur, who travel to Brentford at 5 p.m. tonight evening (kick-off 5.30 pm).
Meanwhile, the defeat represents a major setback for Ralf Rangnick's team's chances of qualifying for the Champions League next season.
United, who named Erik ten Hag as their new manager for next season on Thursday, are now six points behind fourth-placed Arsenal, despite having played one more game.
United's valiant fightback came to an end when Arsenal scored a critical third goal. Mohamed Elneny set up Xhaka, who scored a 25-yard left-footed thunderbolt to raise the roof of the Emirates Stadium and help his side put down a massive marker in the race for a top-four finish.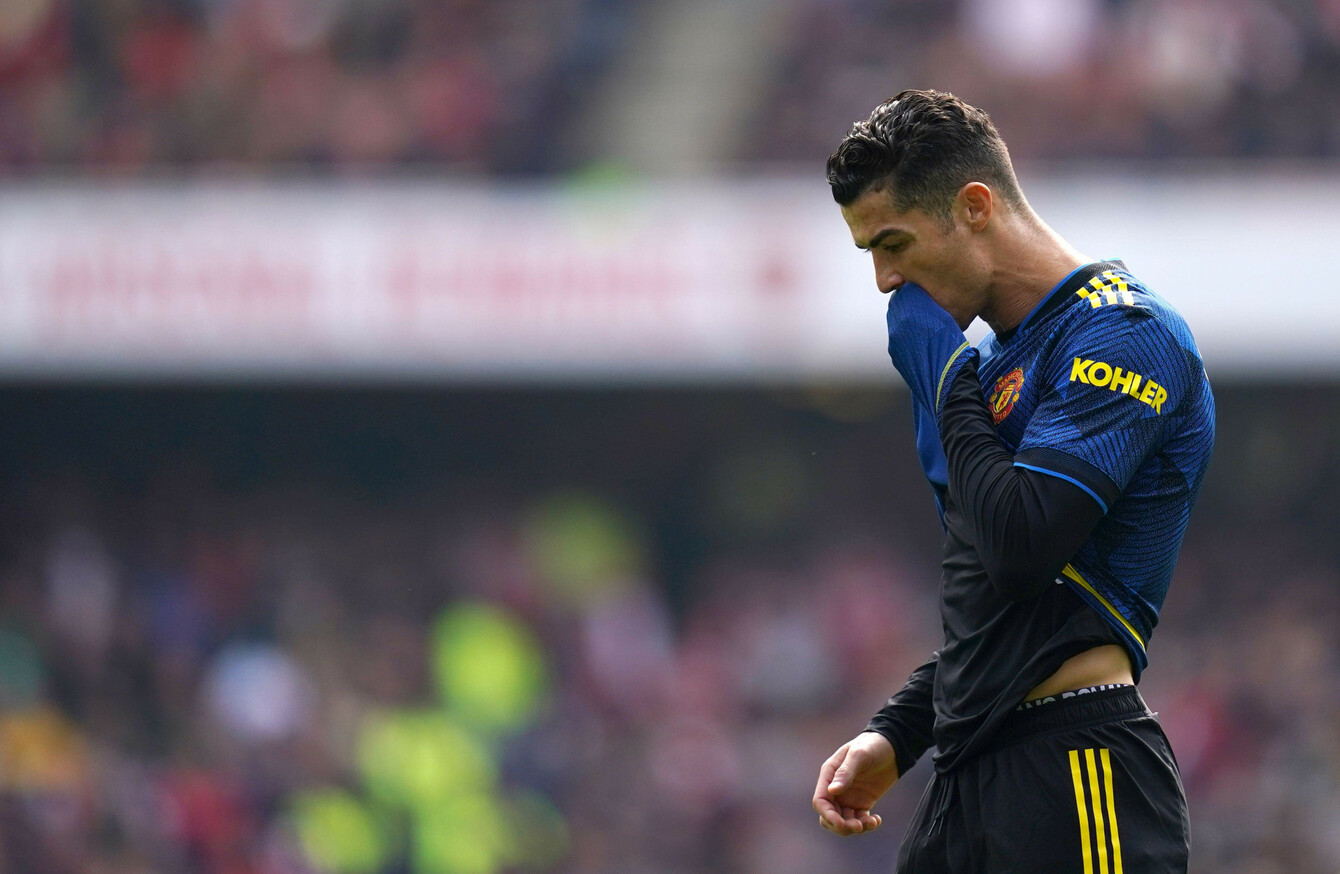 Between 2003 and 2009, Ronaldo scored 118 goals in all competitions for United, including 84 in the Premier League, and he has added to that total since his return to Old Trafford last summer.
The 37-year-old has 16 goals in the Premier League this season, with his most recent strike coming against Arsenal, allowing him to join an elite group.
In his 223rd Premier League appearance, Ronaldo has scored 100 goals, making him the 33rd player in the division to achieve so.
After Ryan Giggs (109), Paul Scholes (107), and Wayne Rooney (107), the Portuguese forward is only the fourth United player to reach that milestone (183).
Cristiano Ronaldo has now scored seven goals in his previous four league appearances for Manchester United, including hat-tricks against Tottenham and Norwich.
Who else in the Premier League has scored 100 goals?
Apart from Ronaldo and the three other Manchester United icons, 29 other players have scored 100 goals in the Premier League, with Newcastle legend Alan Shearer topping the tally with 260.
During two periods with Everton, Rooney is the only other player to have scored 200 goals, but there are plenty of other notable names on the 100-goal list, like Sergio Aguero, Thierry Henry, and Mohamed Salah.
| Player | Goals scored |
| --- | --- |
| Alan Shearer | 260 |
| Wayne Rooney | 208 |
| Andrew Cole | 187 |
| Sergio Aguero | 184 |
| Harry Kane | 178 |
| Frank Lampard | 177 |
| Thierry Henry | 175 |
| Robbie Fowler | 163 |
| Jermain Defoe | 162 |
| Michael Owen | 150 |
| Les Ferdinand | 149 |
| Teddy Sheringham | 146 |
| Robin van Persie | 144 |
| Jamie Vardy | 128 |
| Jimmy Floyd Hassebaink | 127 |
| Robbie Keane | 126 |
| Nicolas Anelka | 125 |
| Dwight Yorke | 123 |
| Steven Gerrard | 120 |
| Mohamed Salah | 119 |
| Romelu Lukaku | 118 |
| Ian Wright | 113 |
| Dion Dublin | 111 |
| Emile Heskey | 110 |
| Ryan Giggs | 109 |
| Sadio Mane | 109 |
| Peter Crouch | 108 |
| Paul Scholes | 107 |
| Darren Bent | 106 |
| Raheem Sterling | 106 |
| Didier Drogba | 104 |
| Matthew Le Tissier | 100 |
| Cristiano Ronaldo | 100 |