Cristiano Ronaldo scored his 116th and 117th goals for Portugal on Sunday, to make his reign as the all-time highest goalscorer more difficult to end. While Erling Haaland scored his 17th and 18th goals for Norway on the same day.
Until Portugal's 4-0 victory over Switzerland in the Nations League on Sunday, Ronaldo had gone five games and nearly nine months without an international goal.
In a lopsided League A game between World Cup-bound teams in Lisbon, Ronaldo missed two more decent chances before halftime, had a goal disallowed for a late offside flag, and forced Swiss goalkeeper Gregor Kobel into two good stops late in the game.
Cristiano Ronaldo, 37, has 117 goals in 188 international outings as he prepares for his fifth World Cup in November. South Korea, Uruguay, and Ghana are in the same group as Portugal.
After scoring twice in a 2-1 win against Sweden in League B, Erling Haaland has 18 goals in 19 games for Norway, demonstrating why the 21-year-old forward could be the biggest absentee in Qatar.
Gavi also had a special appearance, in his ninth international game, Barcelona's latest midfield prospect scored his first international goal, and Spain drew 2-2 with the Czech Republic in League A.
After a 1-1 draw against Spain on Thursday, Portugal now leads Group 2 with four points.
Switzerland has now lost three games and drawn one in 2022, and things aren't going to get any easier next week when it hosts Spain and Portugal in Geneva.
Before Portugal took the lead in the 14th minute, the Swiss had an apparent goal canceled due to a handball after a VAR check. After Kobel parried Cristiano Ronaldo's deflected free-kick, William Carvalho reacted to a loose ball to give Ronaldo the lead.
When the ball was laid back to him by Diogo Jota, Ronaldo scored with a powerful shot, then pounced on a close-range rebound after Kobel stopped Jota's shot to score his second goal of the match.
LEAGUE B
Norway, which leads Group 4, and Serbia, which is in second place, each had two prolific scorers.
Erling Haaland, who overcame Serbia on Thursday with a penalty, scored from the spot again in the first half against Sweden. In the 69th minute, he scored on an angled shot to extend the lead.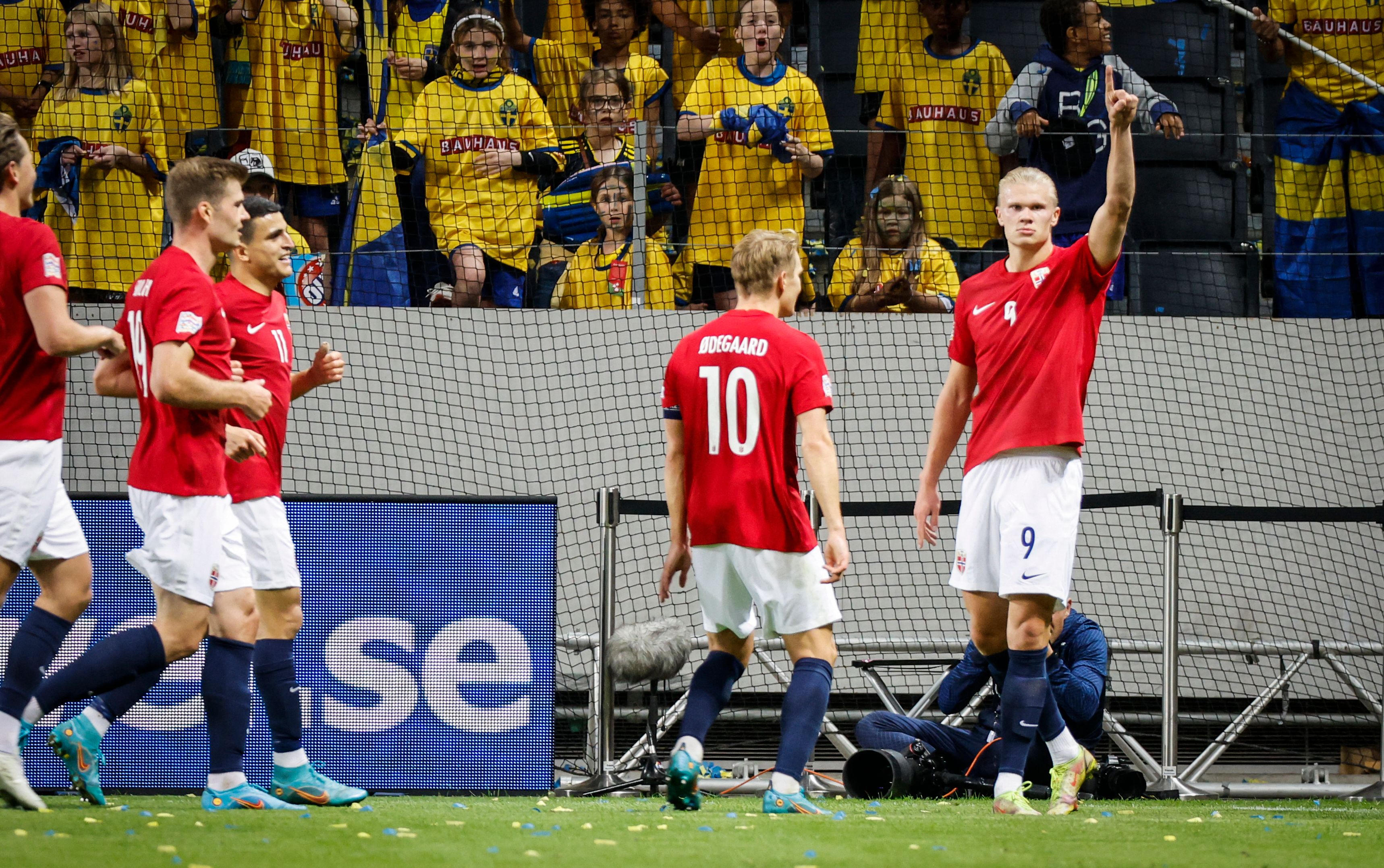 Serbia defeated Slovenia 4-1, with Aleksandar Mitrovi scoring the game's first goal midway through the first half. Fulham's 27-year-old forward scored his 45th international goal in 73 games.
Mitrovi last goal for Serbia was in November 2021, when a 90th-minute victory in Portugal qualified Serbia for the World Cup and put Ronaldo and his teammates into the playoffs.
Serbia is in a group with Brazil, Switzerland, and Cameroon in the forthcoming World Cup.
LEAGUES C AND D
Greece is in first place in Group 2 after a second straight 1-0 victory, this time over Kosovo, under coach Gus Poyet. Cyprus and Northern Ireland drew 0-0 in the same group.
Georgia tops Group 4 with six points after defeating Bulgaria 5-2. North Macedonia is two points behind Georgia after a 2-0 win in Gibraltar.
In League D's seven-nation tier, there was only one game on Sunday. Malta defeated San Marino 2-0.