Carlos Tevez, a former Argentina striker, has been named manager of Argentine top-flight team Rosario Central, the club said on Tuesday.
In his first senior coaching post, the former Manchester United, Manchester City, and Juventus player signed a 12-month contract with the club.
Following his third stay at Boca Juniors, where he began his senior career 20 years ago, the 38-year-old retired from playing in 2021.
He made his international debut for Argentina against Ecuador in 2004 and has 76 caps and 13 goals to his name.
Tevez also played for Juventus in Italy, Shanghai Shenhua in China, and Boca Juniors, where he retired on June 4, 2022.
Tevez departed Boca Juniors a year ago and will now begin a management career with the Rosario-based club after signing a 12-month contract on Tuesday, June 21, 2022.
Rosario Central was looking for a new coach after Leandro Somoza resigned last week, citing a disagreement with the club's officials.
Tevez recently stated that he is looking forward to pursuing a management career and has finally been able to land one in his home country.
"I'm going to coach," he declared. "I made that decision. I'm getting the same butterflies in my tummy that I did while I was playing.
"My teams will play football the way I feel football."
Tevez might make his coaching debut in the domestic league on June 24 when Rosario hosts Gimnasia.
Rosario Central goalkeeper Gaspar Servio said he and his teammates are excited to receive Tevez.
"It's something amazing for me that Carlitos [Tevez] can come here," he remarked before Tevez's appointment. "If he does come here, the gang will support him until the end. I'm hoping he shows up. He has a lot of playing experience, and we're all eager to learn and assist Central."
Rosario have won one and lost two of their first four games, placing them 22nd in Argentina's premier flight.
Carlos Tevez
Carlos Alberto Tevez (born 5 February 1984) is an Argentine football manager and former player who now manages Rosario Central.
In his prime, Tevez was a quick, tenacious, muscular, hard-working, and dynamic forward capable of playing as a striker, winger, supporting forward, or attacking midfielder.
Tevez started his career with Boca Juniors, where he won the Copa Libertadores and the Intercontinental Cup in 2003 before moving to Brazilian club Corinthians, where he won the Campeonato Brasileiro Série A.
His transfers to West Ham United in 2006 and Manchester United in 2007 were marred by complications due to his third-party ownership by Media Sports Investment, and the ensuing sagas opened the way for reforms to both Premier League and FIFA regulations.
Tevez joined Manchester City, Manchester United's main rival, in 2009. He earned the Premier League Golden Boot in the 2010–11 season and the Premier League title in the 2011–12 season. He joined Juventus in 2013, where he won two Scudetti and other medals.
In June 2015, he returned to Boca Juniors before joining Chinese club Shanghai Shenhua in a contract that made him one of the world's highest-paid footballers.
He returned to Boca Juniors for a third time in 2018, winning the Primera División titles in 2017–18 and 2019–20.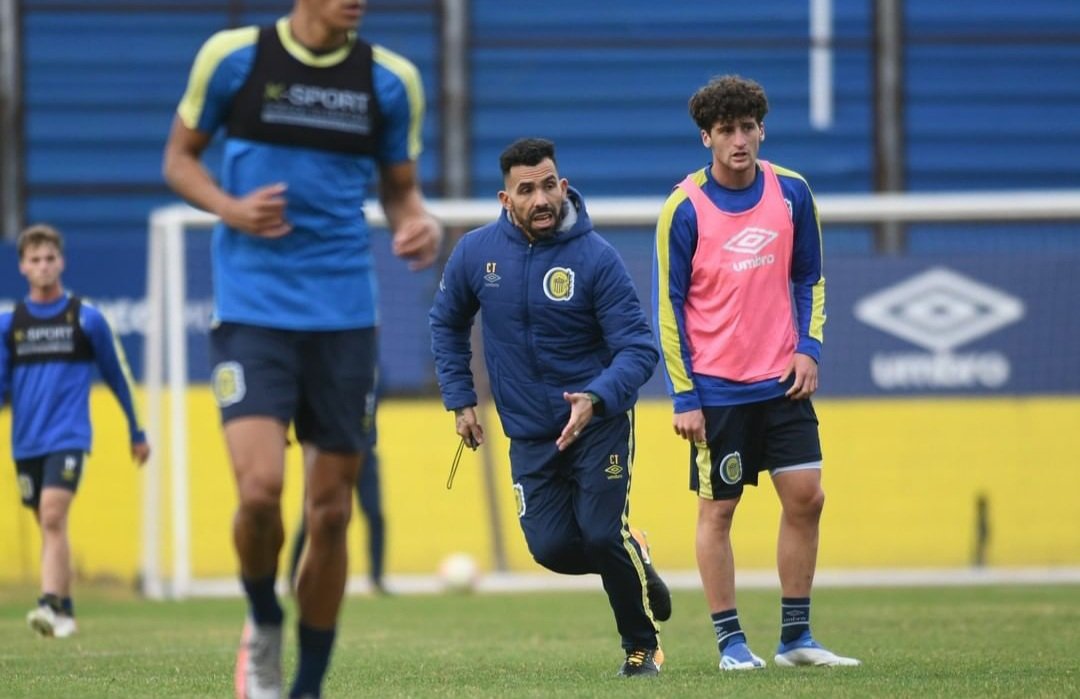 On the international stage, Tevez made his Argentina debut in 2004, garnering 76 caps and scoring 13 goals for the team. He won a gold medal and the Summer Olympics Golden Boot in 2004, as well as two FIFA World Cups, a FIFA Confederations Cup, and four Copa América tournaments.
He was named South American Footballer of the Year three times, Argentina Footballer of the Year twice, and Argentine Sportsperson of the Year once. He has also been named three times to the South American Team of the Year.
In June 2022, he declared his retirement from professional football.