Antonio Rudiger is now a Real Madrid player, after a protracted contract dispute with Chelsea and will feature for the current Champions League winners next season.
On paper, it appears to be a brilliant piece of business for Los Blancos; the European champions have recruited a world-class defender in his prime and perhaps with his finest years ahead of him – without paying a transfer price.
It appears like Chelsea's loss will be Real Madrid's gain, but this is a move that Rudiger absolutely deserved after remaking his reputation and then strengthening it immensely with some rock-solid performances at the heart of Thomas Tuchel's defense, most notably in the Champions League final of 2021.
Having played largely in a back three during his most impressive stint at Stamford Bridge, the German international may face new obstacles in his new environment. Here is how he could perhaps fit into the Real Madrid team…
Rudiger  in a back four formation
Carlo Ancelotti is a staunch proponent of the 4-3-3 formation, and it is unlikely that he will alter it to accommodate Rudiger.
While he occasionally played in a back four under Tuchel, it is unclear whether the 29-year-old is best suited for such system. If he wants to secure a starting position at the Santiago Bernabeu, he will likely need to adjust quickly.
Real already possesses elite central defenders David Alaba and Eder Militao, but it has been reported that the former could be moved to left-back and Ferland Mendy could be sold as a result.
In a four-man defense, one of the fullbacks may be required to sit deep and narrow to enable Rudiger's typical marauding attack – something that may be incredibly effective in La Liga.
Given that he is a right-footed central defender who can also play on the left side of the central defense, the German does present Ancelotti with several formidable options.
Possible back fours:
Carvajal (RB) – Militao (CB) – Rudiger (CB) – Alaba (LB)
Carvajal (RB) – Rudiger (CB) – Alaba (CB) – Mendy (LB)
Rudiger in a back five formation
A back five formation fits Rudiger's playing style more than any other. The center-back performances at the end of the 2021/22 season indicates that he is not flawless, even though he has worked exceptionally hard to address his defensive shortcomings in recent months.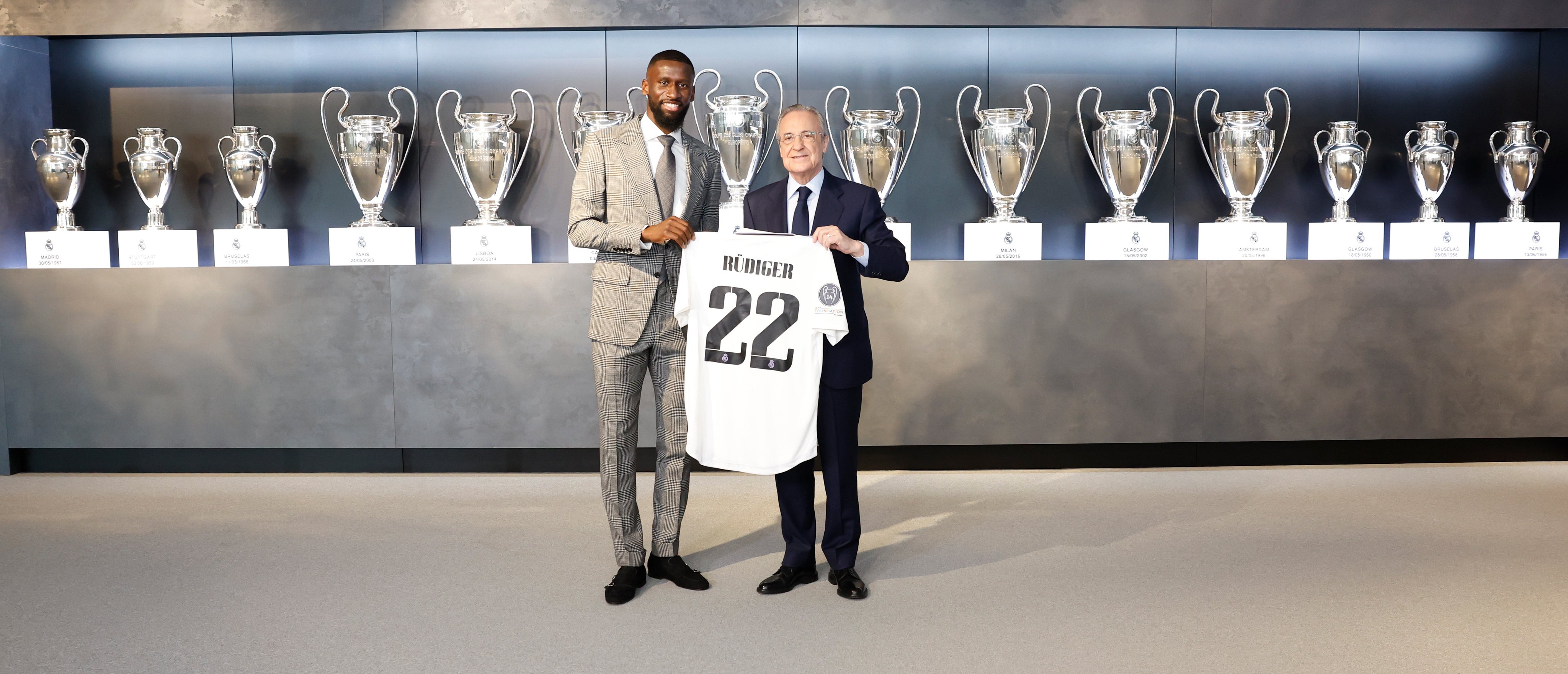 Antonio Rudiger can successfully support the attack while being adequately protected in a three-at-the-back formation. The ex-Roma player also excels when the opposition has possession, defending the comparatively tighter space that a back five gives, man-marking, and likely goes harrying after the ball when he sees even a sliver of an opening to make a crashing challenge.
However, it is believed doubtful that Ancelotti would be amenable to a back five at this stage, which is quite reasonable given that he has just won La Liga and the Champions League with his favored attacking 4-3-3 formation. In addition, it would leave them with little central defense depth beyond the starters.
However, he still gets a choice regardless.
Possible back fives line ups:
Carvajal (RWB) – Militao (CB) – Rudiger (CB) – Alaba (CB) – Mendy (LWB)
Vazquez (RWB) – Militao (CB) – Rudiger (CB) – Alaba (CB) – Mendy (LWB)
Carvajal (RWB) – Militao (CB) – Nacho (CB) – Rudiger (CB) – Alaba (LWB)
Vazquez (RWB) – Militao (CB) – Nacho (CB) – Rudiger (CB) – Alaba (LWB)
Valverde (RWB) – Militao (CB) – Rudiger (CB) – Alaba (CB) – Mendy (LWB)
Valverde (RWB) – Militao (CB) – Nacho (CB) – Rudiger (CB) – Alaba (LWB)
Antonio Rudiger as a substitute?
Given that Real have not paid an exorbitant transfer fee, Ancelotti may feel less pressure to instantly insert Rudiger into his starting lineup. However, given his current form and standing, the player will not be satisfied with a spot on the bench.
Rudiger may be eased into life in Spain, but he will soon be eager to begin.
If the Italian strategist eventually decides to experiment with a back five, say when defending late in a crucial match, keeping Rudiger on the bench could be advantageous.