Usain Bolt: Eight-time Olympic Gold medallist says on Jamaican radio that he should have pursued his goal of playing football in Europe rather than Australia.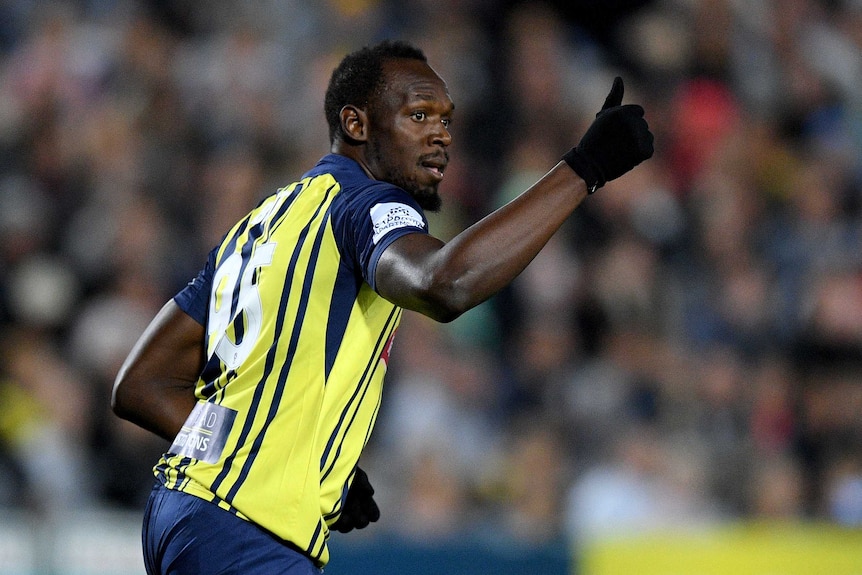 Bolt admitted his mistakes in football, calling his decision to travel to Australia to train with the Central Coast Mariners an "error."
The 34-year-old trained with clubs in South Africa, Norway, and Germany before opting to try to break into the professional ranks in the A-League after leaving track and field to switch to football following the 2017 World Athletics Championships.
The holder of the 100-meter and 200-meter world records, however, said last week in an interview with Jamaican radio station Irie FM that his attempt to escape the spotlight in Europe cost him the opportunity to play professional football.
"I made a mistake," he said of his trial in Australia in a recent interview where he is seen wearing his UNICEF football gear around the time of last month's UNICEF Soccer Aid match that raised more than $25 million for the charity.
"When I retired from track and field, I didn't want to stay in Europe because of the media. I went to Australia, but the level of football there wasn't good. I should have stayed in Europe.
"After a year of trials I just said, you know what, let's just move on from that. So I moved on."
Bolt said that he would have likely had coaches if he had remained in Europe, where he trained with Strmsgodset in Norway and Borussia Dortmund in Germany "who could relate to me and could educate me more, who would respect me more, and I would learn a lot more. I would have stayed in Europe if I had known."
SEE ALSO
The sprinter acknowledged that his intention to switch sports was motivated by his conviction that he was better than some professionals he observed while watching the matches of his favorite team, Manchester United of England. The sprinter gave up his dream and retired from "all sport" in 2019.
Usain Bolt – Life after sport
Bolt has kept himself occupied ever since he stopped competing in sports, despite not being part in any of them anymore.
He has experimented in a number of economic endeavors, including owning and operating his own chain of restaurants in Jamaica, spinning records at nightclubs in the nation's capital, Kingston, and pursuing a career in music.
Bolt released a dancehall single at the beginning of this year, and he recently told Zip 103 FM that he wanted to promote his musical abilities worldwide.
He declared that his goal was to "not only control the Jamaican business, but also enter the international market."
"We're just trying to get a foothold, trying to make people understand that we're not just here joking around.
"We're serious about the music so we're just going to take our time. Just like in track and field, it's all about work and dedicating and just taking our time."
His first child, a daughter named Olympia Lightning Bolt, was also born last year in May.