Arsenal midfielder, Thomas Partey did not go on the pre-season trip with the rest of the club because he is recuperating in London.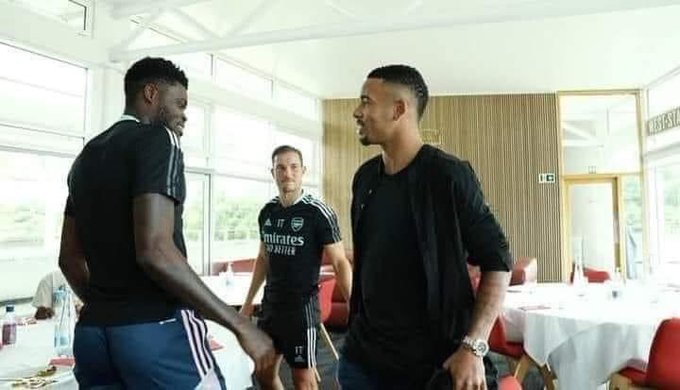 The Ghanaian international wasn't in Germany with the rest of the team, contrary to earlier claims.
Following news that an unidentified 29-year-old Premier League footballer was detained on suspicion of rape in North London, Partey's name has been trending over the past 24 hours.
Given that the other 29-year-old footballers in north London are either online or on vacation, many football fans have quickly claimed that Partey is the player who has been detained.
Chris Wheatley had earlier tweeted that Partey was in Germany with the rest of the team, but has since deleted the tweet and updated his post.
Since nothing has been confirmed as of yet, Arsenal supporters will be hoping that Partey or any other Arsenal player was not involved in the scandal.
Thomas Partey
Thomas Teye Partey, a Ghanaian professional football player who competes for both the Ghanaian national team and Premier League club Arsenal, was born on June 13, 1993.
Partey started his professional career in 2013 at the Spanish club Atlético Madrid. He later went on loan to Mallorca and Almera before returning to Atlético in 2015, where he went on to win the UEFA Europa League and UEFA Super Cup in 2018. He transferred to Arsenal in 2020 for £45 million (€50 million), making him the most expensive Ghanaian player in history.
Partey, a Ghanaian international, has competed for his country in three Africa Cup of Nations (2017, 2019, and 2021). In addition to winning Ghana Player of the Year in both 2018 and 2019, he was chosen to the CAF Team of the Year in 2017.
Thomas Partey's wife
According to reports, the 28-year-old midfielder changed his name after getting married to Sara Bella, a Moroccan woman.
Nevertheless, while representing Arsenal, due to his official documents, the Ghanaian midfielder will continue to be referred to as Partey.
Despite the recent name change, his clothing will still have the Partey moniker.
In March, Partey informed the media in his native Ghana that Bella, his partner, is the reason he is now a Muslim.
Partey has further committed himself to Islam by adopting the name Yakubu after getting married to Bella.
Partey recently underwent a change in circumstances after receiving a chieftaincy title in his native Ghanaian village of Odumase Krobo.
Who Is Sara Bella?
Moroccan-born Sara Bella is most known for being the spouse of Ghanaian player Thomas Partey.
Additionally a model, Sara Bella is quite active on social media, particularly Instagram.
Thomas Partey and Sara Bella dated briefly before getting married in March 2022, which inspired Partey to become a Muslim.
Thomas Partey Injury
Although the reason for the Ghanaian midfielder's absence from coach Mikel Arteta's squad is currently unknown and was initially reported to be due to an injury, it should provide any of Arsenal's many talented central midfielders with an opportunity to impress the current manager.
Thomas Partey reportedly conferred with medical professionals about a thigh issue that could prevent the Arsenal midfielder from playing for an extended period.
The 3-0 Premier League loss to Crystal Palace earlier this year required the Ghanaian international to leave the field.
The race is on for Thomas Partey to recover quickly enough to help Arsenal finish in the top four and advance to the Champions League.