Despite Italy's failure to qualify for the World Cup for the second time, coach Roberto Mancini will remain in charge.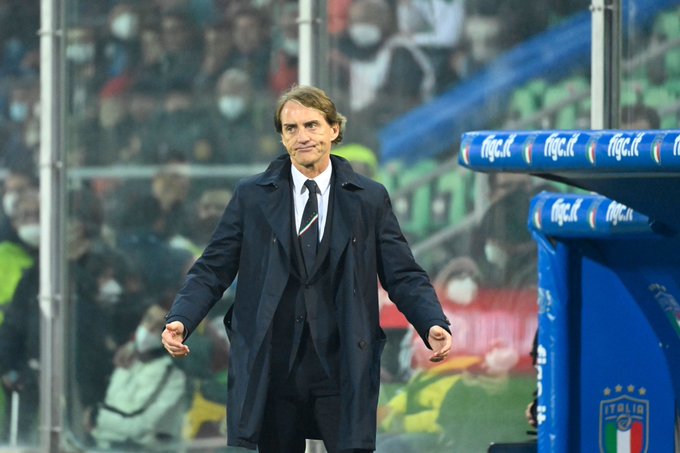 Italy, who only eight months ago won the European Championship, fell 1-0 to North Macedonia in the play-offs on Thursday and will now miss the World Cup for the second time.
Following the last loss, coach Gian Piero Ventura was fired and Mancini was appointed.
The Italian soccer association, on the other hand, has elected to continue with the coach who revitalized the national team and guided it to victory at Euro 2020. In May, the 57-year-old Mancini's contract was extended until 2026.
On Monday, Roberto Mancini stated, "We need to start over." "I spoke with the president; we agree on everything, and we'll set aside time to discuss how we can improve."
"I'm still young, and I'd like to win a European Championship and a World Cup; the second will have to wait a little longer. I enjoy this work and am confident that with the help of the players, we can once again organize something significant. Everything else is progressing, with the exception of the disappointment.
"We must begin anew with a new cycle. We have a few of key games coming up." We will undoubtedly debut younger players for the Nations League as early as June. I'm hoping they gain experience at their club. That is critical."
After taking over from Ventura, Mancini introduced an entertaining brand of football. Before losing to Spain in the Nations League finals, his team set various milestones, including a run of 37 consecutive unbeaten matches.
As Italy prepares to rebuild from the ground up, veteran defender Leonardo Bonucci feels Mancini is the ideal guy for the task once again.
"In these three years, the coach has given us something special," Bonucci remarked. "At Coverciano (the Italy team's headquarters), he has instilled an empathy that is uncommon.
"For us, sticking with the coach is the only rational option: his ideas and his worth are undeniable. The outcome of a one-off match can sway public opinion, but people who live this every day want to keep going in the same direction."
After losing to the Portuguese on Thursday, Italy will play Turkey in a friendly instead of preparing for the playoff final against Portugal on Tuesday.
Marco Verratti, Jorginho, Ciro Immobile, Lorenzo Insigne, Domenico Berardi, Gianluca Mancini, Luiz Felipe, Alessandro Florenzi, and Matteo Politano were among the nine Italy players called up for the World Cup play-offs who returned to their clubs during the previous three days due to physical difficulties.
This should allow some of the less experienced players to participate.