Robert Lewandowski, the Bayern Munich forward who announced his intention to quit the club this summer, has returned to the club for preseason training.
After the 2021-2022 season ended, the star of Bayern Munich startled the top Bundesliga team by announcing his intention to leave the team after eight years.
The forward is being pursued by Barcelona with vigor, but no deal has been reached, therefore the Poland international must return to the Bundesliga giants for pre-season training since he is still bound to the club for a season.
It was unclear if he would return to Bayern after trying to get a transfer away due to his aggressive pursuit of a transfer, but he was spotted entering the club's camp on Tuesday morning.
In advance of the upcoming season, Lewandowski was seen by Sky Sports driving into a medical center for examinations while Barcelona is rumored to be increasing their interest.
According to Sky Sports, the LaLiga club is willing to offer approximately £43million (€50m), with Bayern open to bids between £43m and £47m (€50m to €55m).
The 33-year-old has developed into one of the most dangerous forwards in world football, but with only one year remaining on his contract, he has put off signing a new term and told club officials that he wants a new challenge.
Recently, Barca president Joan Laporta acknowledged that they made an offer to sign the Polish striker. "We have submitted an offer that they [Bayern] will consider, and we are awaiting their decision," he added.
In the summer transfer window, Xavi already strengthened his defense by signing free agents Andreas Christensen and Franck Kessie, and he is now looking to bolster his midfield.
After selling Clement Lenglet to Tottenham, Barca, which is still suffering financially as a result of the coronavirus pandemic, will raise money to buy more players this summer. In the same vein, Manchester United are still in negotiations with Frenkie de Jong. If the deal scale through, it would be a great financial boost for Barca.
Meanwhile, Lewandowski has been linked with moves to Chelsea and Paris Saint-Germain, and his departure might permit Bayern to complete the purchase of a prolific striker this summer.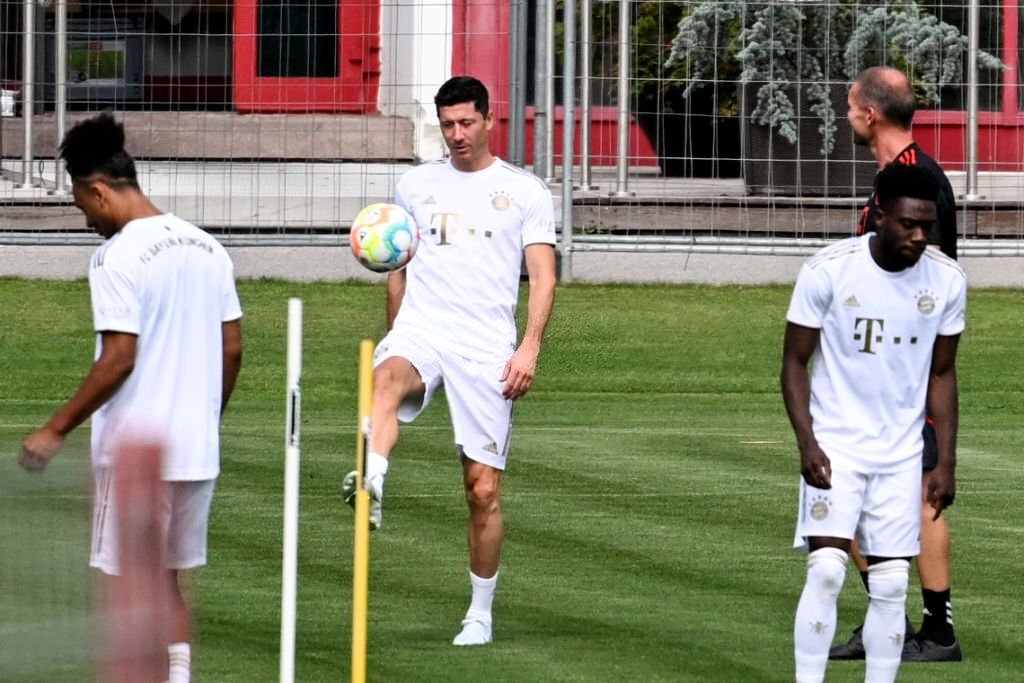 Lewandowski's attempt to leave Bayern has drawn vehement resistance from the team and the national press, with the player accused of having a negative attitude toward the organization that has helped him develop into an exceptional player.
He responded to those comments by saying that while he was grateful for Bayern's support over the years, he felt compelled to be open about his circumstances and express his wish for "a new stage."
'I'm not a selfish person,' he said in an interview with Bild. 'I know what I had at Bayern and appreciate it very much. I also know that I've been doing my best not to disappoint the club and the fans for the past eight years. After this time I feel that it is time for a new stage.
'I respect FC Bayern and its rules. But changes, especially after such a time, are part of the life of the club and the player. I hope that doesn't come across as selfish. I have a contract, but I also tried to make it clear to the club how I feel.
'I've always tried to do my best for FC Bayern to meet the expectations of the team and the fans. I appreciate the Bayern fans, they have always supported me. If I wasn't honest about my situation, I would feel like I wasn't being fair to the fans.'
He had another brilliant season in the Bundesliga, scoring 50 goals across all competitions to truly join the elite group of scorers in football history. However, he has achieved all of his goals at Bayern, and he has been unable to deny his yearning for a fresh challenge.
Lewandowski has been aggressive in his attempts to make his move away from Bayern a reality. When describing why he wanted to go, he remarked, "Something died inside me," and he asserted that if they stopped him, no player would want to join them.