Robert Lewandowski and Pierre-Emerick Aubameyang are set to play together for the first time in eight years – this might be Barcelona's missing part of the puzzle since the Messi, Suarez and Neymar (MSN) era.
Lewandowski was introduced to his new Barcelona colleagues this week after completing a £42.5 million transfer from Bayern Munich, and Aubameyang was caught on camera nervously watching.
When they were teammates at Borussia Dortmund in 2013–2014, they combined to score 44 goals across all competitions, with 28 goals from Lewandowski and 16 from Aubameyang.
Robert Lewandowski and Aubameyang made up two-thirds of a potent front three at Dortmund that also included Marco Reus.
Lewandowski served as the primary centre striker, while Reus and Aubameyang were used as wide strikers.
Golden Boot winner Lewandowski went to champions Bayern at the end of the 2013–14 campaign, which made room for Aubameyang to come into the center of Dortmund's assault.
Since then, Aubameyang has primarily been employed as a central striker, scoring 230 goals for clubs.
Last season, the former captain of Arsenal played nearly all of his 1,092 La Liga minutes at Barca in which he scored 11 goals.
But in order to make room for Lewandowski, Aubameyang will have to move aside.
There is no way Barcelona could have signed the probably best No. 9 in soccer history to play him anywhere than where he belongs.
At the Camp Nou going forward, Aubameyang will play two roles:
Lewandowski's backup (substitute) is in the no. 9 spot.
Lewandowski's assistance from wide locations.
In order to improve their goal scoring capabilities for the upcoming season, the Catalans made sure the Polish international signed a contract with them.
In order to achieve this, Lewandowski and Pierre-Emerick Aubameyang's prospective reunion may elevate Barcelona to the rank of the most dangerous offensive units in Europe.
Given that Barcelona's wage had been drastically reduced by La Liga, Aubameyang, a Gabonese international, agreed to join Barcelona in January for a fee of merely €2.5 million annually for the ensuing six months.
The Poland international, who was introduced by Barcelona on Monday in Miami, Florida scored astounding 344 goals in 375 games while playing for Bayern Munich. He is expected to sign a four-year contract with Barca once the transfer is complete.
Lewandowski caught up with his new teammates for dinner after posing for pictures and films at a lifeguard post on a municipal beach.
For Pierre-Emerick Aubameyang, who only recently transferred from Arsenal to Barcelona on a free transfer, his presence could be terrible news.
Robert Lewandowski is anticipated to replace Aubaeyang as Xavi's first-choice striker, and the heightened rivalry for spots didn't exactly make Aubaeyang happy.
Later footage, however, showed the two holding hands and cuddling, indicating that Aubameyang was not as alarmed by Lewandowski's entrance as it had first appeared.
Aubameyang had a strong campaign for Barcelona last year, scoring 13 goals in 23 games across all competitions. However, Lewandowski, who has vowed to help the team contend for big awards this year, will be a tough competitor for the former Arsenal talisman in the coming season.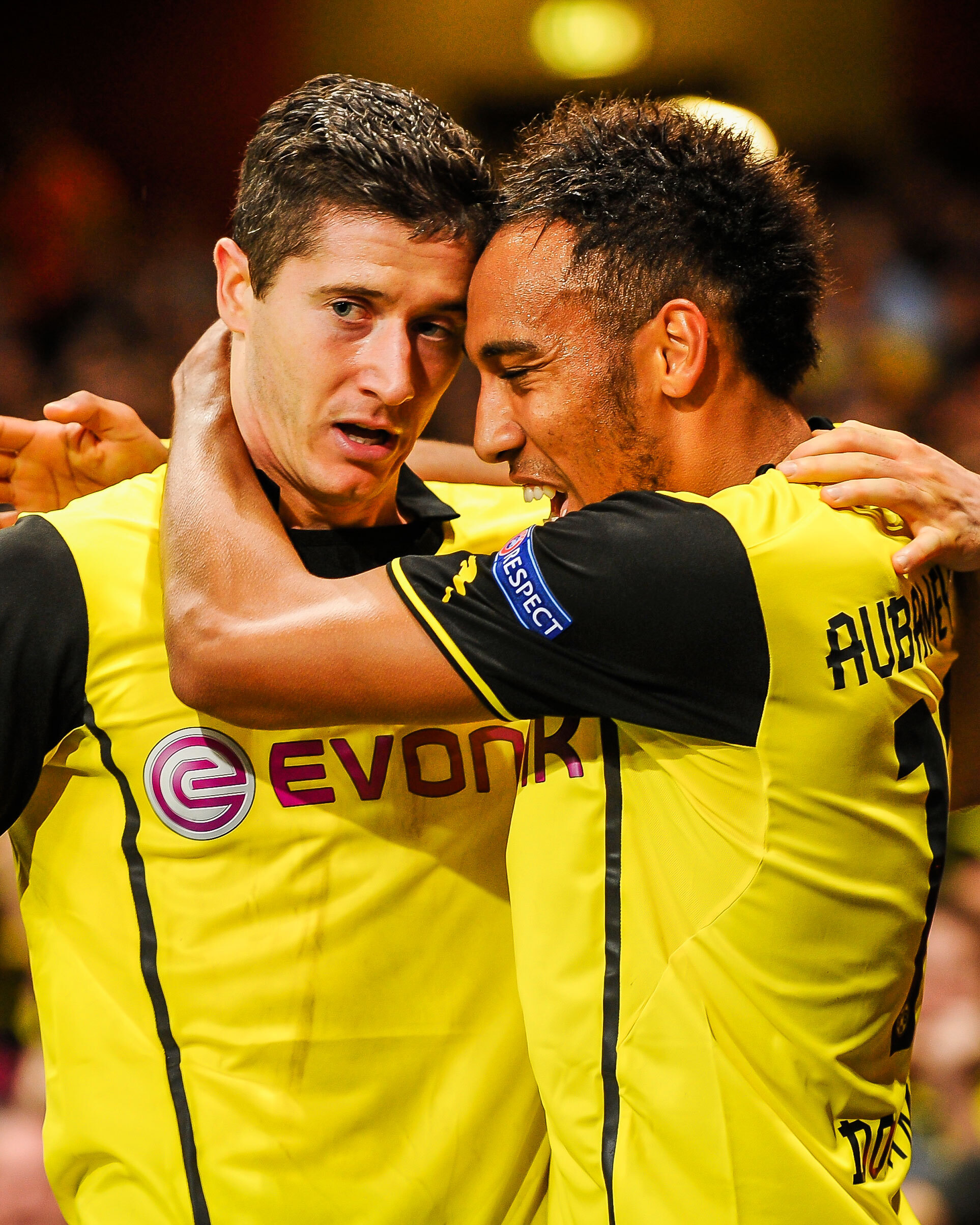 Tuesday's opening game of their American tour against David Beckham's Inter Miami might see Lewandowski make his Barcelona debut.