The Premier League is a difficult place to play, especially for young players, yet in 2021-2022 season, a handful of under-23 talents broke out to make their mark.
Here is a list of ten young players who have shined after being given the opportunity in their respective clubs.
Anthony Elanga, 20, FW, Manchester United
The rise of the Sweden international has been one of the few bright spots in an otherwise dismal season at Old Trafford. After seeing limited action under Ole Gunnar Solskjaer in the first half of the season, interim manager Ralf Rangnick instilled confidence in the winger/forward, who sees lots of potential in the kid.
Elanga is a good passer, a hard worker, and an unpredictable dribbler. He's also one of Manchester United's top ball-winners, and his energetic pressing should be beneficial to new head coach Erik ten Hag.
Marc Cucurella, 23, LB, Brighton
Cucurella, a product of Barcelona's legendary academy, has evident skill on the ball and has only improved since joining Brighton for €18 million from Getafe last summer.
He's equally at home at left-back as he is on the left side of midfield, but he's also impressive as an overlapping center-back, always wanting to move the ball forward and create imbalances further up the pitch. Cucurella, who is aggressive and attack-minded, averages three crosses per game and has been linked with a move to Manchester City recently.
Anthony Gordon, 21, FW, Everton
Everton's winger has been crucial in their fight against relegation during a difficult season. Few look beyond his hard-working, high-intensity style for his skill on the ball and highly developed football IQ, but the England under-21 international can operate on both flanks and possesses the technique and vision to make an impact when moving into central areas.
Gordon is one of the most successful dribblers in the Premier League, despite the fact that he still has to work on a few aspects of his game.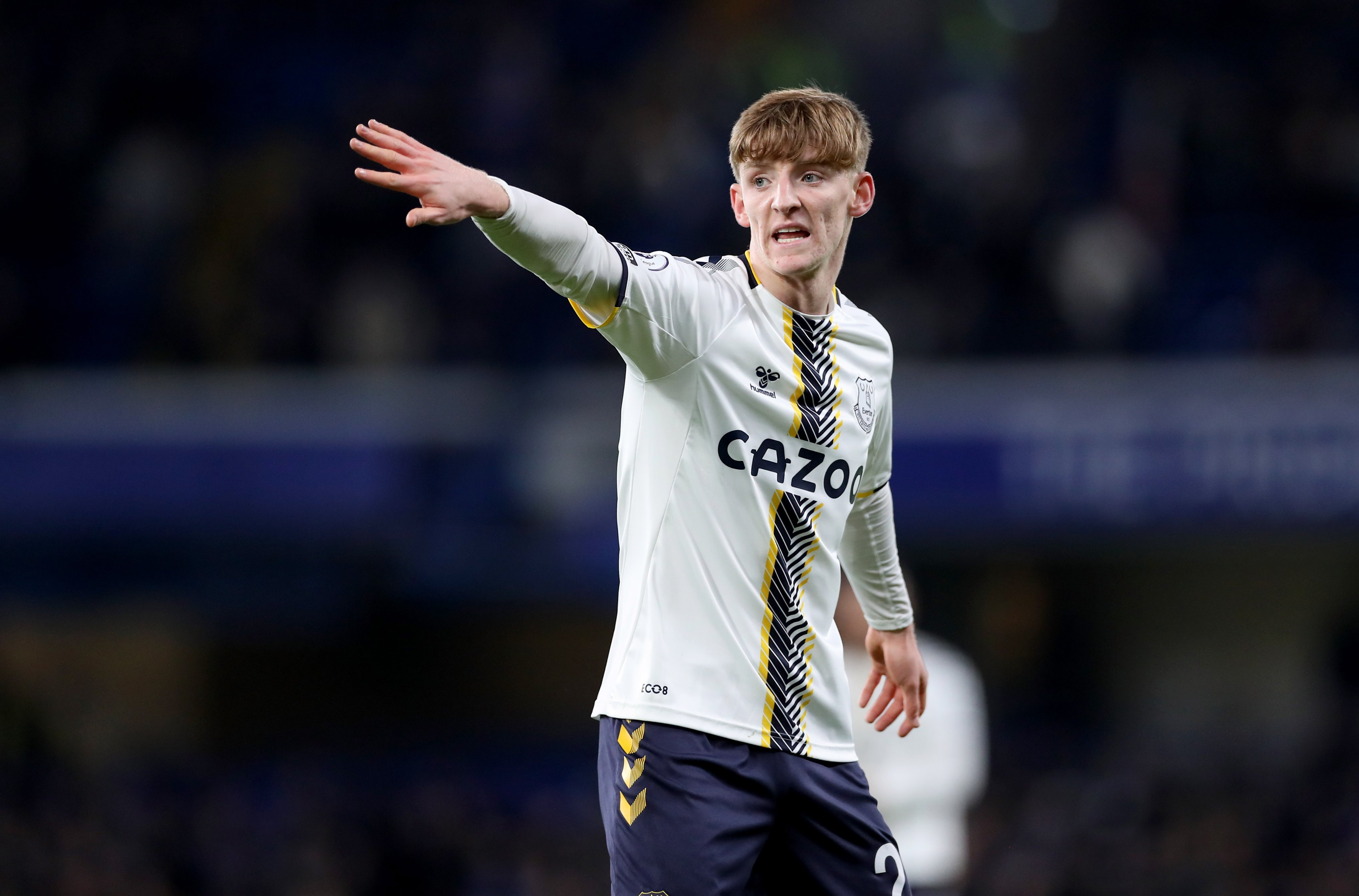 Honorable mention: Vitaliy Mykolenko is a 21-year-old LB. The Ukraine international, who joined for £17 million from Dynamo Kyiv in January, can struggle defensively, but he's already shown promise as a left-back or further up the pitch.
Jacob Ramsey, 20, CM, Aston Villa
The England U21 midfielder has progressed from a promising 25 appearances last season to a full-fledged starter this season. Ramsey is a first-class ball carrier (almost six progressive carries per game on average) who can advance with the ball when space opens up in key areas. He's scored six goals this season.
Ramsey, who is quick in his movements and a good finisher (0.15 non-penalty xG), could earn a senior England call-up next season.
Ryan Sessegnon, 21, LB, Tottenham
Possibly the season's most unexpected success story. After an uneventful loan spell at Hoffenheim, the former Fulham prodigy's future seemed certain to be away from Tottenham when he returned.
Manager Antonio Conte, to his credit, has given Sessegnon a fresh lease on life, and the left-winger has responded by becoming one of the Italians' most productive players as they chase Champions League qualification at the end of the season.
He was notably impressive in the 3-0 North London derby triumph against Arsenal and provided a continuous creative outlet in the crucial 1-0 home win over Burnley a few days later.
Honorable mention: DM Oliver Skipp, 21. The defensive midfielder had a solid start to the season, removing any doubts about his ability to play in the Premier League, until suffering a pelvic injury in January which necessitated surgery and ended his season.
Conor Gallagher, 22, CM, Crystal Palace/Chelsea
After loan spells at Charlton, Swansea, West Bromwich Albion, and now Crystal Palace, Gallagher has yet to play a senior game for Chelsea. However, from August onwards, he has stepped up and effectively runs the Palace midfield himself, scoring eight goals.
Gallagher may appear to be everywhere on the pitch, as he is always on the move, eager to get on the ball, and dedicated in his defensive effort. He was rewarded with a senior England call-up in November for his positive passing and good deep runs into the box, and it would be surprising if Chelsea didn't give him a chance next season following a fantastic debut season in the Premier League.
Ben Johnson, 22, RB, West Ham
Johnson has been a member of the West Ham first squad since the 2018-19 season but has only played as a substitute. Johnson's chance finally arrived this season, and he seized it with both hands, thanks to his versatility in playing on either side of the defense or at wing-back.
He's already a regular with 33 games under his belt and is progressing well. Johnson has excelled more on the defensive side of the game — one-on-ones, blocks, and clearances — than on the offensive side of the game, partly owing to his skill set and partly due to tactical considerations.
Tyrick Mitchell, 22, LB, Crystal Palace
The Crystal Palace left-back may look back on an incredibly steady Premier League season as another teenager to earn a recent senior England call-up. Patrick Vieira's team has benefited greatly from his determination to press and reclaim possession high up the pitch, while his speed makes him difficult to overcome in defensive duels.
He's one among the league's most proactive ball-winners, averaging 3.30 tackles per game while only receiving one card all season. He was nominated for the Premier League's Young Player of the Year award.
Kiernan Dewsbury-Hall, 23, CM, Leicester City
The emergence of the Leicester midfielder came as no surprise to Championship fans, as Dewsbury-Hall had a successful year on loan with Luton Town. However, the 23-year-old academy graduate has stood out this season.
He covers a lot of ground; he is aggressive in his pressing duties and can pick out teammates in wide areas with his excellent left foot. Dewsbury-Hall is also one of the league's most prolific progressive passers, with few players capable of moving the ball forward in counter-attacks.
Tino Livramento, 19, RB, Southampton
Livramento's rise from Chelsea's youth system to becoming a Premier League regular at Southampton has been nothing short of remarkable. He had seemed unusually active and confident until a recent slump in form, during which he was prone to defensive marking blunders.
Livramento, an attack-minded right-back, is particularly deft with his movement in the opposition half, not only hunting for the ball in wide areas but also exploiting space to play combo passes. His ACL injury at the end of April was a setback, but he should be able to return to form next season.
Honorable mention: CB. Mohammed Salisu, 23. With over four tackles and 17 challenges each game, the Ghanaian center-back is used to dealing with whatever comes his way. He made his first-team debut after six months of joining Southampton for about €12 million from Valladolid in August 2020. However, he has proved that he is capable of being a regular this season.