Kevin Garnett, a Basketball Legend, was invited to the stadium to observe Chelsea players train before meeting up with a few of them for a conversation and a photo session.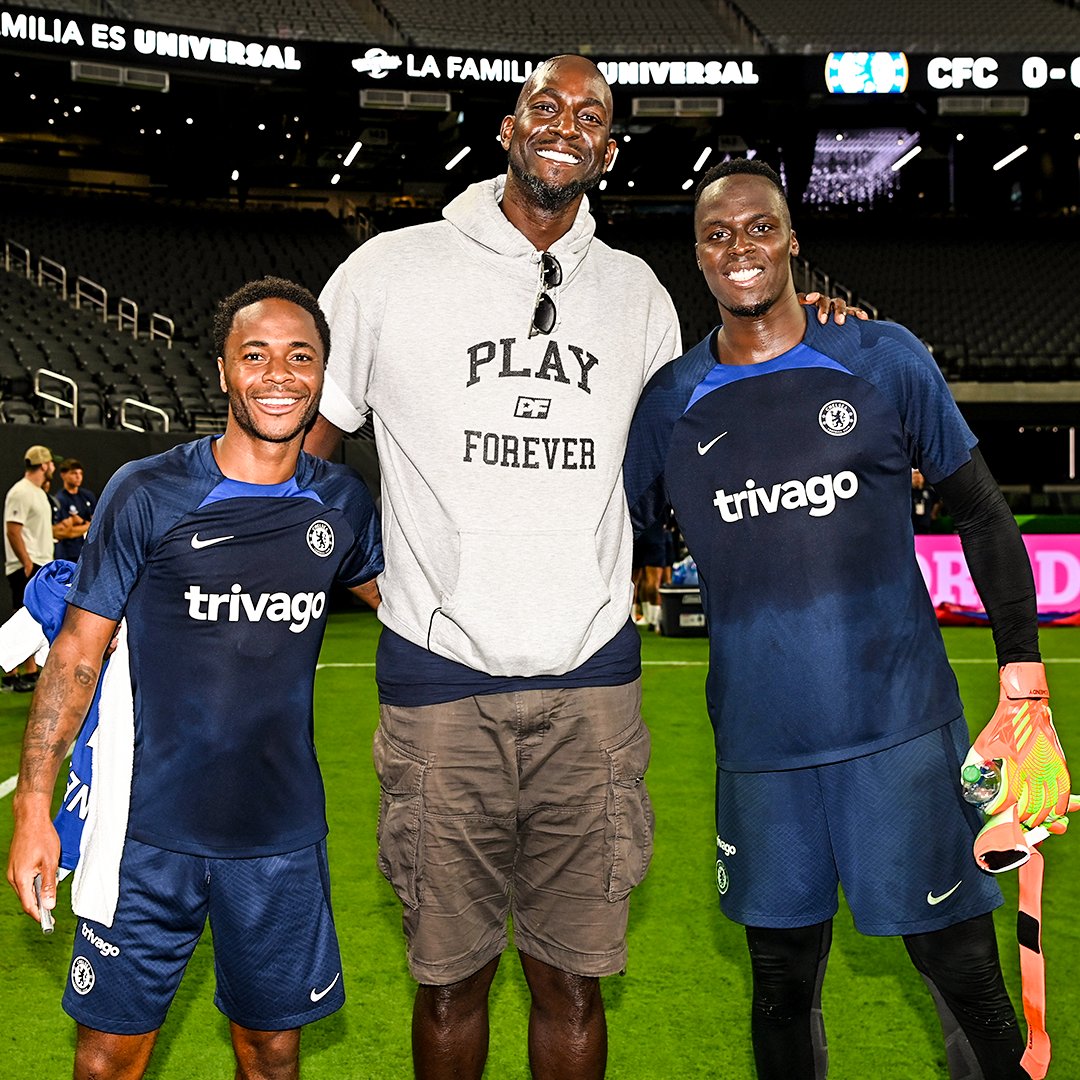 The Chelsea players and the Basketball great met for a group photo and the almost 7feet tall NBA legend made the Premier League players look shorter than expected. Even Chelsea goalkeeper, Edouard Mendy couldn't match up.
SEE ALSO
The Blues took off from LAX International around noon and landed in Las Vegas, along with sweltering heat, about an hour later.
While in La Vagas, they played against Club America and won 2-1 courtesy of a goal each from Timo Werner and Mason Mount. An own goal from Reece James was all Club America could get from the friendly.
Who is Kevin Garnett?
American basketball player Kevin Maurice Garnett, who was born on May 19, 1976, played professionally for 21 seasons in the National Basketball Association (NBA).
Garnett, nicknamed by his initials KG and as the "Big Ticket" for his agility and powerful dunking, is regarded as one of the best power forwards of all time and is renowned for his ferocity, defensive prowess, and flexibility.
He is one of only five NBA players, as of 2020, to have won both the NBA Defensive Player of the Year and the NBA Most Valuable Player Awards.
How tall is Kevin Garnett?
The American basketball star is officially listed by the NBA at 211 centimeters tall. When he was playing, Garnett, like Durant, liked to aggressively round down his height.
He is supposedly over seven feet tall, but the NBA only gave him a height of 6'11". Former Minnesota Timberwolves coach Flip Saunders liked to say that Garnett was six-foot-13 in an apparent reference to the difference.
Kevin Garnett's Stats
Garnett was inducted into the Hall of Fame as a Player in 2020 and weighed 240 lbs (108.9 kg) when competing. In the first round of the 1995 NBA Draft, the Minnesota Timberwolves selected Garnett with the fifth overall choice. He retired in 2016.
In his whole career, Kevin Garnett only has one championship and one ring.
| | | | | | | | | | | | |
| --- | --- | --- | --- | --- | --- | --- | --- | --- | --- | --- | --- |
| | GP | GS | MPG | FG% | 3P% | FT% | RPG | APG | SPG | BPG | PPG |
| Career | 1,462 | 1,425 | 34.5 | .497 | .275 | .789 | 10.0 | 3.7 | 1.3 | 1.4 | 17.8 |
| All-Star | 14 | 11 | 20.5 | .511 | .000 | .875 | 6.3 | 2.9 | 1.1 | .8 | 11.3 |
Kevin Garnett's Wife
In a private ceremony in California, Garnett wedded his longtime partner Brandi Padilla in July 2004. Garnett missed the Athens Olympic Games because of the wedding.
Two daughters belong to the couple. Garnett's wife filed for divorce on July 12, 2018, requesting custody of the kids in the process.
When was Kevin Garnett's jersey retired?
Following the game between the Boston Celtics and the Dallas Mavericks at TD Garden on March 13, 2022, in Boston, Massachusetts, former Boston Celtics player Kevin Garnett retired his number (5) to a standing ovation.
Over a year after it was initially scheduled, Boston Celtics legend Kevin Garnett's No. 5 jersey was hoisted to the TD Garden rafters.
The 15-time NBA All-Star, who helped Boston win its 17th championship banner in 2007–2008, was elected into the Naismith Memorial Basketball Hall of Fame in 2021.
He's been recognized as a member of the NBA's 75th-anniversary squad this year and has published a personal book that has been a top seller in the country.
The 45-year-old is now the 24th Celtics player whose jersey number has been retired.
Many of Garnett's Celtics colleagues, including fellow Hall of Famers Paul Pierce and Ray Allen, traveled back to Boston for the event.
Why does Kevin Garnett hate Ray Allen?
Kevin and Ray started fighting after Ray decided to join the Miami Heat in 2012–2013, a decision that Kevin didn't support. Ray claimed he had every intention of sticking with Boston, but the deal Miami was willing to give him was significantly more lucrative than what the New England team was willing to pay.
Ray eventually went on to win a championship with the Heat in 2013, and in Game 6 of the NBA Finals, he made what is considered to be the shot of his career.
Kevin felt Ray's decision to join the Heat was a betrayal, and he was so convinced of this that he excluded Ray from the Celtics team reunion: In 2017, Kevin stated, "People don't comprehend that this is actual life for us.
"Ray's condition is a highly delicate one. When we all discussed having this reunion tour, I believe we were talking about the guys who we consider to be committed members of this group."