Kai Rooney, Wayne Rooney's son, has published his fantastic 2021/22 Manchester United stats on Instagram which left most fans of the Rooney dynasty wowed.
The 12-year-old, who is the eldest son of the renowned scorer, joined United in December 2020.
And, according to the youngster, he scored 56 goals and added 28 assists over the season.
That's a lot going on.
Kai, a left-footed player, grabbed headlines in April when he scored a spectacular goal versus City in the Manchester derby.
He scored four goals against Liverpool earlier in the season.
But it's safe to say that his best effort of the season came against Stoke City in a 6-3 victory. Kai had a fantastic individual performance, scoring three goals and dishing out three assists.
While Kai is still very young and has a long way to go, United fans can't help but be excited at the idea of him following in his father's footsteps.
Wayne, of course, is the club's all-time leading scorer with 253 goals in 13 seasons. And it appears that he has passed on his goal-scoring genes to his son.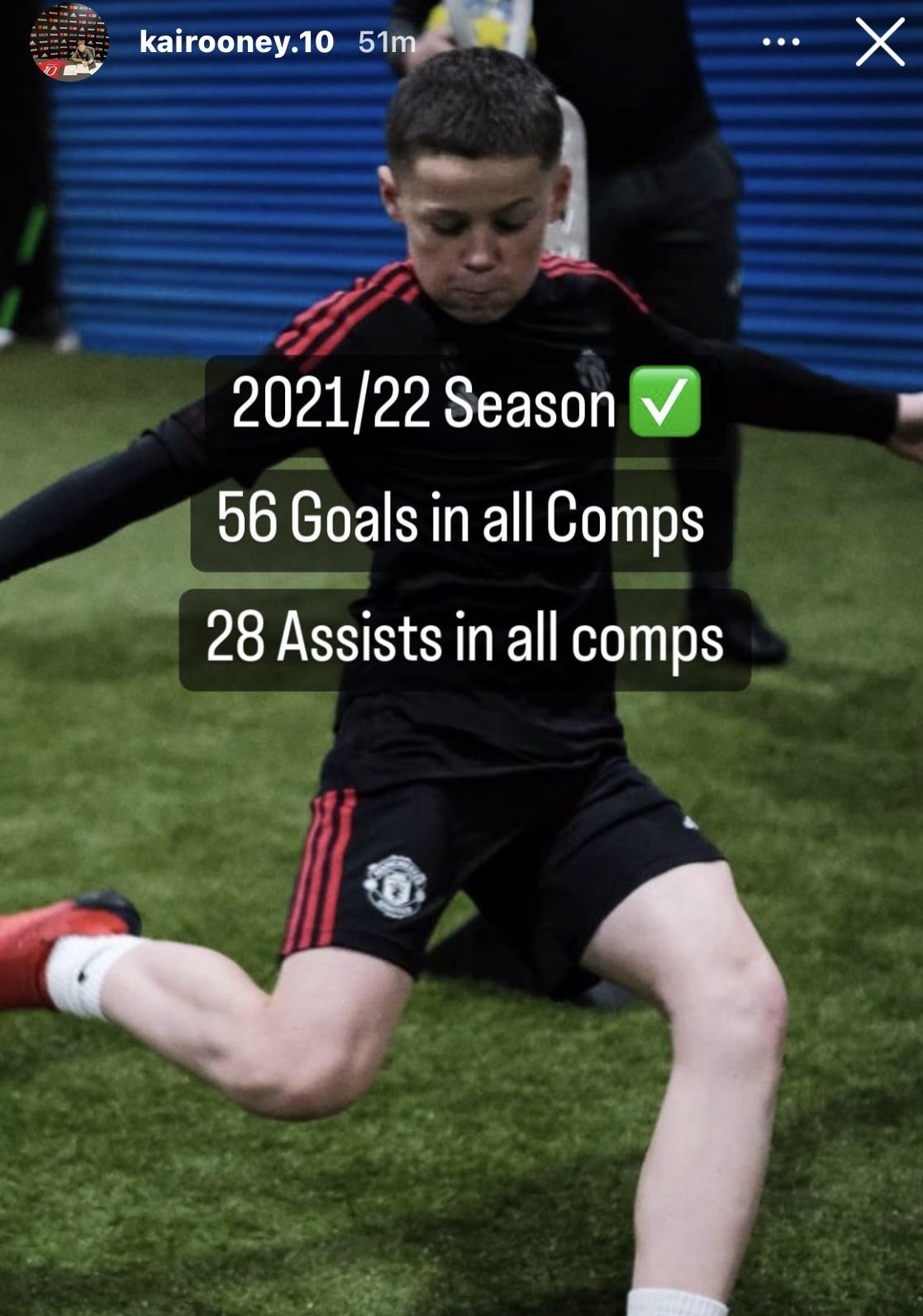 Kai played for Bethesda Soccer Club when Rooney was with DC United in the MLS. Kai, on the other hand, joined the Old Trafford club after his father returned to England.
While reacting to his son's stunning 2021-2022 season, Wayne Rooney wrote: "I'm a proud father.
"He's been working hard, he obviously came over to the States with us to continue with his football. He went on trial with Manchester United and he's impressed the coaches.
"He signed his forms yesterday so I'm delighted for him. He did have other options, other clubs to go to but he decided he wants to sign for Manchester United, so it was his decision and not mine."
Kai might make his first-team debut at Old Trafford four or five years from now if he maintains his remarkable goal-scoring record.