There was no question who won the season-opening FA Community Shield between Liverpool and Manchester City, which was billed as a matchup of two new Premier League strikers.
Darwin Nunez, who gave Reds fans a new hero with a memorable debut, soon demonstrated why the team paid Benfica £64 million for his services.
The Uruguayan international came on as a substitute but ended up winning a last-minute penalty that Mohamed Salah converted to give Liverpool a 2-1 lead. He then scored his first competitive goal for the team to "put the icing on the cake" of his performance.
Erling Haaland, Norway international, had a disappointing first game at the other end of the field as he missed several chances in the game that ended 3-1 in favor of Liverpool.
Darwin Nunez stood out
Liverpool won the FA Cup and the Carabao Cup last season, but they were unable to complete the historically rare quadruple.
Salah, Roberto Firmino, and Sadio Mane all contributed to the club's recent trophy victories. Sadio Mane left in the summer to join Bayern Munich afterward.
Nunez, who impressed by scoring against the Reds in the Champions League's knockout round last year, was brought in to replace the Senegal international.
The player's first touch was the subject of social media jokes during the preseason, which manager Jurgen Klopp referred to as "a joke," but the 23-year-old resoundingly disproved them by scoring four goals in the friendly match against RB Leipzig.
And he gave his life in England the perfect start by coming off the bench at the King Power Stadium to head in his team's third goal to seal a 3-1 win over Manchester City.
Nunez's close-range goal was scored directly in front of the Reds supporters, who cheered for him as he wheeled away to celebrate.
A replay of the goal appeared as Klopp was being questioned about Nunez's contribution, and the German pointed and grinned before responding: "Very nice indeed, and with time, he'll become better.
"When he came on, we passed each ball for him to chase it. He handled it quite well. We are patient and we know he can do good stuff. His impact today from the bench was exceptional, as with everyone who came on."
Nunez had a chance to score just five minutes after joining the game, but Ederson stopped his attempt. Nunez also contributed to the second goal when his header struck Ruben Dias in the arm, earning Salah a penalty.
Nunez started the celebrations by exploding a bottle of champagne and shooting it in the air when Jordan Henderson raised the trophy while performing his signature jig.
Erling Haaland appears lost already
Manchester City won the Premier League last season by a single point over Liverpool, scoring 99 goals along the way to secure their fourth top-flight victory in the previous five years.
However, they have significantly altered their attacking lineup as a result of the sales of Raheem Sterling to Chelsea for £50 million and Gabriel Jesus to Arsenal for £45 million.
After a productive period in Germany during which he scored an astounding 86 goals in 89 games, the highly regarded Haaland arrived from Borussia Dortmund.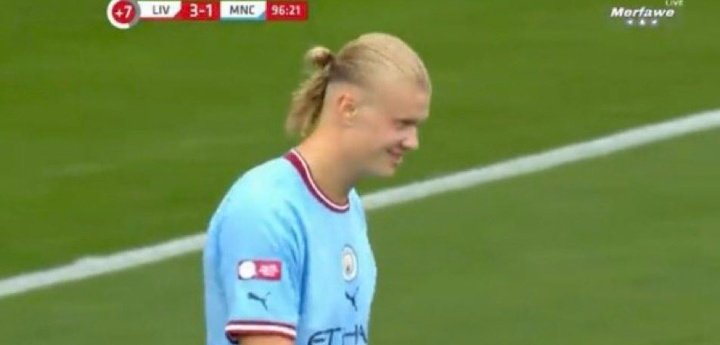 However, he struggled to find the back of the net as Adrian blocked one of his first-half attempts and he mistimed another shot while stretching.
In actuality, fellow rookie Julian Alvarez, who came on as a substitute and scored the equalizer for his team, overshadowed Haaland's performance.
Haaland squandered a golden opportunity to win the game in the dying seconds, hitting the crossbar from a few yards out after Adrian's parry landed exactly into his path.
In total, Haaland had only 16 touches of the ball throughout his 97 minutes on the field, and he only successfully completed seven of the nine passes he attempted.
After the 3-1 defeat at the hands of Liverpool, the coach of Manchester City, Pep Guardiola noted: "He is strong and the other times he will put it in the net, that is football. It is good to understand sometimes in a situation where he has to think, 'OK what do I do?'
"I am absolutely not concerned or worried about that [miss]. He is going to help us."