Everton ace Dominic Calvert-Lewin has said that 'talking saved his life' after struggling with mental health during the season.
Calvert-Lewin had a difficult season, missing significant amounts of time due to injury as the Toffees slid into relegation trouble.
However, the forward finished on a high note, scoring the game-winning goal against Crystal Palace last Friday to seal Everton's place in the Premier League next season.
Dominic Calvert-Lewin commented on Instagram about the difficult moments he had to go through, saying, "First and foremost, thank you to you fans for sticking by us this season and for continuing to motivate us right up until the last day of the season."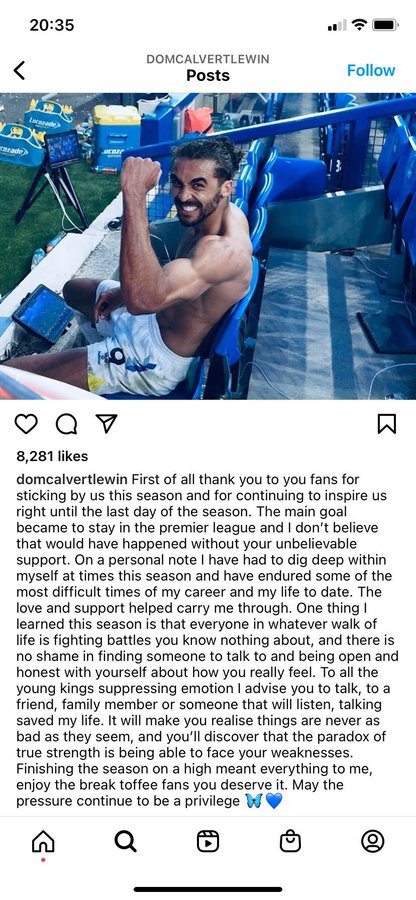 "The major goal became retaining Premier League status, which I don't believe would have been possible without your incredible support."
"For me, finishing the season on a high means everything, so enjoy the break, Toffee fans." May the privilege of being under pressure continue."
"Love and support helped carry me through," the 25-year-old continued.
"One thing I learned this season is that everyone in whatever walk of life is battling conflicts you're unaware of, and there's no shame in talking to someone and being upfront and honest with yourself about how you actually feel."
"I advise all young kings who are concealing emotion to talk to a friend, family member, or anyone else who will listen; talking saved my life."
"It will teach you that things are seldom as awful as they appear, and that the paradox of true strength is the ability to face your flaws."
As he previously stated, the England striker has had a difficult season due to a succession of injuries that have limited his playing time.
He scored five goals in 17 Premier League games this season.
But ended the season on a high by scoring a crucial goal in his side's 3-2 victory over Crystal Palace, which ensured Everton's Premier League membership ahead of next season.