Erling Haaland opened his account for Manchester City versus Bayern Munich in Green Bay, Wisconsin in just 12 minutes.
Haaland was thrown into the action against a team he knows very well from his time in the Bundesliga at Lambeau Field after missing City's 2-1 victory over Club America earlier this week.
City's No. 9 was as clinical as usual as he didn't hesitate to take his chance, even though he wasn't initially very engaged in the play.
During the buildup of the goal, Jack Grealish looked well positioned to bury the ball but the English forward decided to be an assist provider instead. The £100million player lay it on a plate and squared it to the clinical Norwegian striker to finish.
The game was stopped due to a lightning storm right after Haaland scored, and both teams left the field temporarily.
Due to the rain, kickoff had to be postponed, and spectators were led back into the congested concourse.
As a result, it was agreed to shorten the game to an 80-minute competition.
Haaland missed City's opening friendly due to "niggles," according to manager Pep Guardiola, but the star acquisition is still working towards being fully fit.
Guardiola stated in a news conference that "he had some issues at Dortmund last season, but we try to handle it, it's not a big issue."
"We want to take care of them. When we come back, we want to be fit; the player has to be fit to be ready. It will come", the coach added.
The 22-year-old has easily integrated himself into City's locker room, where his father Alf-Inge played for three seasons.
City's club-record acquisition Grealish believes that if Haaland fully settles in at his boyhood club, he would become "unstoppable."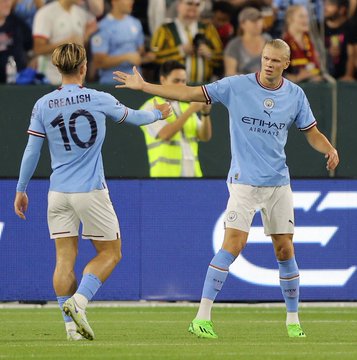 "He is a great guy, a brilliant guy. The first day that I met him we took a car together and even after that ride I thought, 'what a guy'," Grealish said after the club America win, as per the Manchester Evening News.
"He's so down to earth and quite up front with the way he is. You get used to that. He's looked good in training and once he reaches full fitness will be unstoppable. I can't wait to play with him and I'm really looking forward to it."
Erling Haaland, a player for Manchester City, was born on July 21, 2000, in Leeds. He was a member of Bryne FK from 2006 to 2017, Molde FK from 2017 to 2018, FC Red Bull Salzburg from 2019 to 2019, Borussia Dortmund from 2020, and Manchester City from 2022 to date.
Will the Norwegian international repeat his goalscoring performance in the Bundesliga in the Premier League? Will the 2022/2023 EPLs be the most competitive ever?
Well, as the saying goes, only time will tell.