Ukraine and Russia Crisis: The European Clubs' Association has contributed a million euros (£840,000) to Ukrainian clubs, with chairman Nasser Al-Khelaifi expressing his "grief" over Russia's invasion and "violent attacks on the Ukrainian people."
All seven Russian members have been suspended by the ECA, which is holding its general assembly in Vienna.
Al-Khelaifi stated, "Our hearts go out to our Ukrainian friends here today."
"The suffering we are experiencing serves as a reminder of what is truly important."
The pledge was made by Paris St-Germain chairman Al-Khelaifi, who was joined by Ukraine FA first vice-president Oleh Protasov and Shakhtar Donetsk chief executive Serghiy Palkin as he inaugurated the two-day meeting.
Al-Khelaifi stated, "We are living in troubling times." "We've all been saddened by the brutal attacks.
"We call for peace."
Al-Khelaifi stated in his announcement of the donation: "I am pleased to announce that the ECA will provide an initial financial contribution of one million euros to help our members' efforts to assist the Ukrainian people. Many of our teams have also offered to help Ukrainian young academy players find a safe haven.
"I'm in contact with the United Nations Human Rights Council so that ECA can assist both the Ukrainian people and the refugees in neighboring countries."
Fifa, the world governing body, donated $1 million (£750,000) to the humanitarian operation in Ukraine just last week.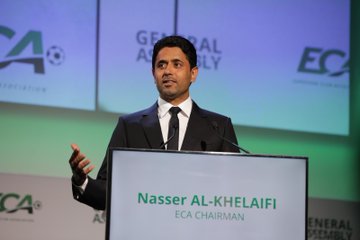 The country's football has been halted, and Ukraine's World Cup play-off against Scotland has been rescheduled for June.
Who are the European Clubs Association?
The European Club Association is the only autonomous group in Europe that represents football clubs. ECA, the 'voice of the clubs,' has established itself as a prominent and recognized player in the worldwide football environment since its inception in 2008.
The following is the text of the speech given by the Chairman of the ECA today on the ECA website in reference to assisting Ukraine:
The Europe of today looks very different to the Europe of six (6) months ago, when we last all met in Geneva. We are living through troubling times. We have all grieved to see the violent attacks on the Ukrainian people, and we call for peace. The suffering we are witnessing reminds us about what truly matters in life, and why we treasure it so desperately.

It also reminds us of the positive social force of football. I am in touch with the United Nations Human Rights Council (UNHCR) so that ECA can help both the Ukrainian people, and the refugees being cared for in the neighbouring countries. I am also very proud to announce that ECA will make available an initial €1 million financial contribution in supporting our members' efforts in assisting the Ukrainian people, while many of our clubs have also offered to find a safe place for Ukrainian youth academy players. Thank you.

What we do here during this General Assembly is important work. Our actions and decisions make a difference. Together, in a small way, we can help lift the spirit of Europeans and fans all over the world during these times of terrible conflict – please remember this is a responsibility we have.

ECA Chairman via their official Website