Thomas Partey, an Arsenal star, has once more been exposed on social media as an alleged rapist by an unnamed woman using receipts.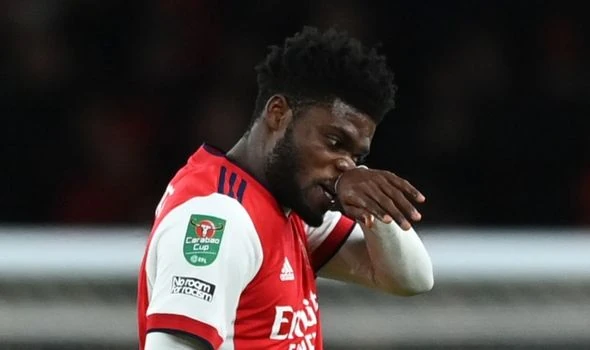 Remember how Thomas Partey, an Arsenal star, was supposedly accused of rape earlier this month by his wife, Sara Bella.
Due to the alarming allegation, Partey was excused from Arsenal's preseason schedule in Germany as he was suspected to be the unnamed Premier League player that was arrested for raping two different women in 2021 and 2022 respectively.
According to reports, his Moroccan girlfriend Sara Bella, 29, falsely accused the 29-year-old Ghanaian footballer of rape.
Reports claimed that Sara Bella had to accuse Partey of rape after the footballer declined to accompany her down the aisle.
The Arsenal star eventually rejoined his teammates in the United States for Arsenal's preseason once the noise about his rape scandal subsided.
Thomas Partey subject to new rape allegations
However, after being called out on Twitter on Thursday, July 28 about a rape allegation, Partey's name has once again attracted attention for the wrong reason on social media.
In a string of tweets, an unknown woman going by the Twitter handle @deffonotchaur appears to have called the Arsenal midfielder out by posting images of the private conversations she had with the footballer.
Thomas Partey allegedly attempted to have oral s*x with her while she was asleep, according to her. A strange gesture that she undoubtedly found offensive.
She alleged, "He sexually assaulted me, left me comatose in bed, went out to party in Ibiza, came back, laughed in my face, and said I don't get to say no to him."
"Thomas Partey is a serial rapist who got lucky since the day he chose to rape me while we were on vacation together was 10 days before UK legislation changed enabling UK police agencies jurisdiction over crimes committed outside of the UK", @deffonotchaur tweeted.
After making the post, @deffonotchaur added another tweet to the conversation and included a screen-captured video of her conversations with Partey along with the following:
"This is the "innocent man" who Arsenal supporters were defending; the video was taken from my phone after his agent threatened to accuse me of fabricating the videos and manipulating the screenshots.
"The woman said that she was dating Thomas Partey and that they had already met before the alleged event in Ibiza."
Additionally, according to @deffonotchaur, she attempted to end things with Partey before he persuaded her that he was going to change.
"We were dating, and although I tried to break things off with him a few weeks earlier, he invited me to go on a trip with him for his birthday. He persuaded me that he had made the travel arrangements for us and that he was going to reconsider. I gave in to it," she said.
Additionally, the woman shared snippets from their interactions as well as screen captures of her discussions with the Ghanaian footballer on her Snapchat and WhatsApp.
I'm making a separate thread now for all of the evidence I have for me reporting this etc

20th of June after leaving the hotel I told Thomas' agent what he had done to me, he then forwarded it to Thomas and Thomas finally replied about what I had accused him of pic.twitter.com/OitZl0soF3

— 🧍🏽‍♀️ (@deffonotchaur) July 29, 2022
Here is a screenshot of the email response I received from the British consulate after I reported the rape to them, I was told that I wouldn't be able to speak to a female officer more than likely and that they would probably have very limited English (this was over the phone) pic.twitter.com/j1OVbBy9NK

— 🧍🏽‍♀️ (@deffonotchaur) July 29, 2022
Partey Sara Bella rape allegations
Partey turned down his lover Sara Bella's marriage proposal, a source close to the Arsenal midfielder disclosed in a series of tweets.
After he declined to accompany her down the aisle, Sara allegedly tried to blackmail him by accusing him of rape.
The alleged rape was brought to the attention of the police, who then arrested Partey.
When news further broke that Sara Bella's social media status had been altered from "Married" to "Single," it added a real twist to their romance.
Thomas Partey was reportedly in astonishment after spending roughly £700,000 on the same individual who accused him of rape.
Partey reportedly changed his name to YAKUBU and his religion from Christianity to Islam before the purported rape accusation from her Moroccan girlfriend.
Who is Sara Bella, Girlfriend of Thomas Partey?
As far as we are aware, Moroccan model Sara Bella has been linked to Arsenal midfielder Thomas Partey.
Sara Bella moved to the UK to continue her study and probably got to know the Ghanaian football player during that time.
Apart from her Tik Tok account, Partey's purported partner is now only known in sparse detail.
Before the rape claims surfaced, Partey had not made his relationship with the Moroccan public.
It's important to note that Thomas Partey's then lover Sara Bella is not the woman who was allegedly the catalyst for the rape charges.