Robert Lewandowski scored twice to go to 31 Bundesliga goals for the season as Bayern Munich smashed Union Berlin to go seven points ahead at the top.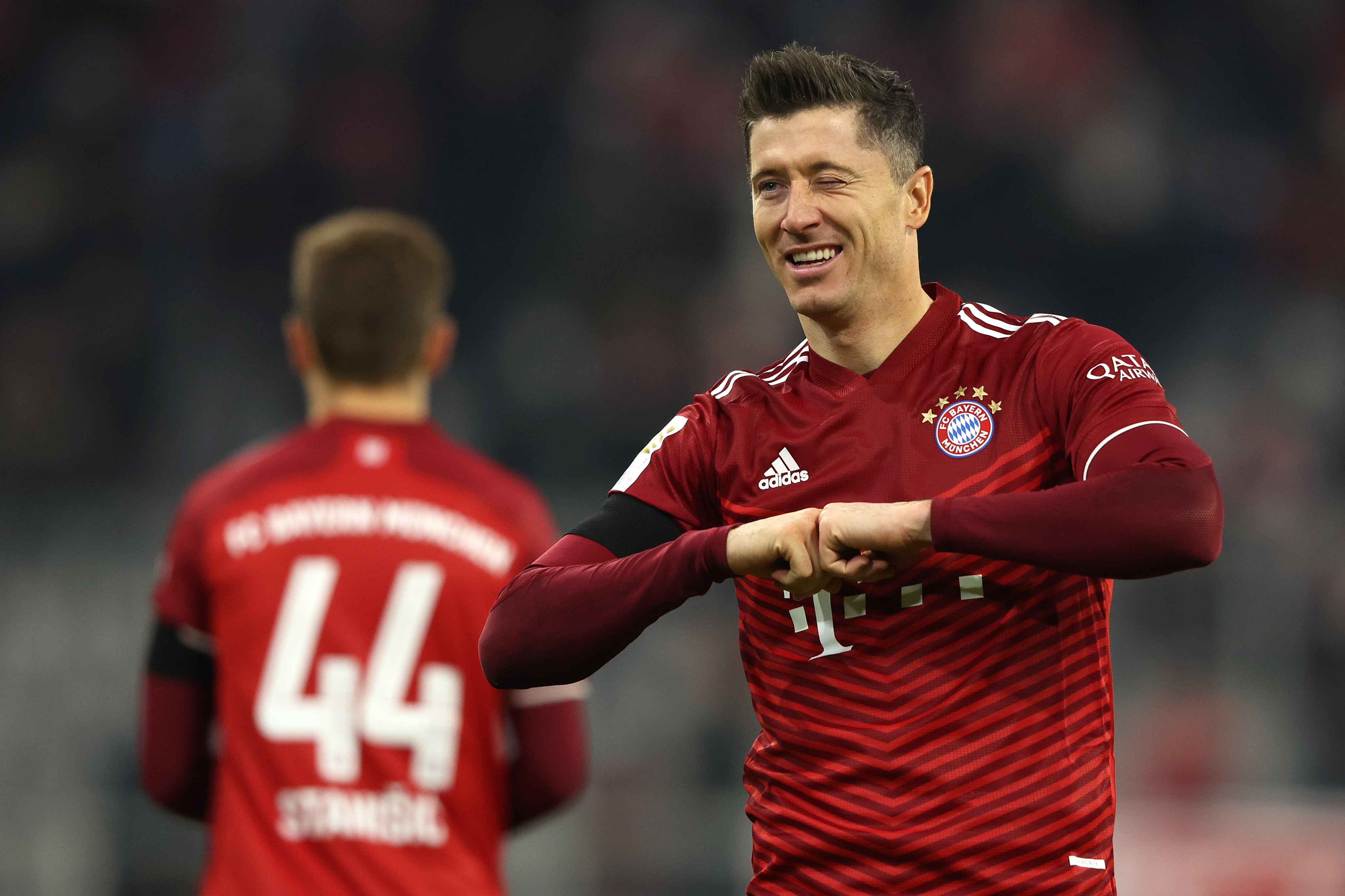 The Poland striker has now equaled Germany icon Gerd Muller's record of 30 or more Bundesliga goals in a season five times.
In first-half stoppage time, his penalty made it 3-0, and he added Bayern's fourth immediately after the break.
Tanguy Nianzou and Kingsley Coman were also on target.
Coman, a France winger, scored the game's first goal with a twisting long-range strike that fooled Union Berlin goalie Andreas Luthe.
As the visitors threatened an equalizer, Robin Knoche and Taiwo Awoniyi both went close.
But it was Bayern who scored next, with Nianzou scoring his first goal for the club with a header from Joshua Kimmich's corner.
When Lewandowski was fouled in the area by Luthe, he was awarded a penalties, which he dutifully converted.
When he knocked home Jamal Musiala's low cross 90 seconds into the second half, the 33-year-old sealed the victory.
Julian Nagelsmann's team, who had drawn their previous two league games but are still on track for a record-extending 10th Bundesliga title, put forth a strong showing.
With a win at Koln on Sunday, second-placed Borussia Dortmund can close the gap to four points.
History
Robert Lewandowski is a German footballer who plays for FC Bayern München. He was born on August 21, 1988, in Warschau. He was a member of KS Partyzant Leszno from 1996 to 1997, MKS Varsovia Warschau from 1997 to 2004, Delta Warschau from 2005 to 2005, Legia Warschau from 2005 to 2006, MKS Znicz Pruszkow from 2006 to 2008, KKS Lech Posen from 2008 to 2010, Borussia Dortmund from 2010 to 2014, and FC Bayern München since 2014.
Lewandowski in the years 2021-2022
In the current season, no one has scored more goals than the 33-year-old. He is the Bundesliga's leading scorer with 31 goals. He has only had one assist that has resulted in a goal up to this time. In total, the player wearing number 9 had 133 shots on goal, making him the greatest player in this area according to league statistics.
No one has ever struck the woodwork as frequently as he has. With seven hits, he leads the league in this category. He has been responsible for 30 passes to a shot up to this point, putting him in fifth place in his club's statistics.
In the previous 27 games of the season, Robert Lewandowski had started every single one of them. With his club, he won 19 of these games.
The 1.85m attacker has four penalty kicks this season, putting him in joint third place in the league with Max Kruse (VfL Wolfsburg).
Bundesliga Career and Records
Robert Lewandowski has appeared in 377 games for Bayern Munich in his Bundesliga career. He has won 269 of them. During his time in the Bundesliga, he has scored 308 goals. With his current squad, he has played in 246 games so far.
He has a total of 234 goals in this league. While playing for Borussia Dortmund, Robert Lewandowski won the German Champion title in 2010/11 and 2011/12. In 2014/15, 2015/16, 2016/17, 2017/18, 2018/19, 2019/20, and 2020/21, he won the same title with FC Bayern München.
With nine trophies to his name, he is presently tied for third place with Jerome Boateng, Javi Martinez, Manuel Neuer, and Franck Ribery for the most German championship titles won. While playing for Borussia Dortmund in 2013/14, Robert Lewandowski scored the most goals of the season (20 goals).
He scored 30 goals, 29 goals, 22 goals, 34 goals, and 41 goals for FC Bayern München in 2015/16, 2017/18, 2018/19, 2019/20, and 2020/21, respectively. With 377 Bundesliga matches under his belt, he is currently the sixth-most experienced player in the league.
Robert Lewandowski is currently in first place on the active scoring table with 308 goals in his Bundesliga career.
International Appointments
In the 2019/20 season, FC Bayern München's Robert Lewandowski won the Champions League. In 2015/16, 2018/19, and 2019/20, he won the DFB-Pokal with FC Bayern München, and in 2011/12 with Borussia Dortmund.
In 2016, 2017, 2018, 2020, and 2021, he won the Supercup with FC Bayern München, and in 2013 with Borussia Dortmund.