Real Madrid, reigning European Champions, would likely axe up to seven players this summer who didn't contribute much to the club last year.
Real Madrid enters the summer offseason of 2022 having already won the La Liga championship and the UEFA Champions League double.
While some younger players have risen through the ranks and become regulars in Real Madrid's first team, they still rely on several older players, some of whom will soon need a succession plan.
After what should have been a season worthy of a Ballon d'Or, Karim Benzema is 34 years old, and a decline is unavoidable. Toni Kroos, a 32-year-old midfielder, occasionally appeared to be unable to handle the demands of a full season, but Luka Modric, a 36-year-old midfielder, still exudes greatness.
All three will remain with the club, although Los Blancos will undoubtedly be making plans.
Losing out to PSG for Kylian Mbappe, 23, was a bitter setback, and Real Madrid's reaction to the swing and miss may define the summer.
We will examine seven players who are most likely to leave Real Madrid this summer here on Futballnews;
Mariano Diaz
Mariano Dáz Mejá, also known as Mariano, is a striker for La Liga team Real Madrid. Mariano was born on August 1, 1993.
Mariano joined Real Madrid shortly after making his Badalona debut in 2011. He played for the C team and later the reserves while there, and in 2015–16, he led Segunda División B in goals scored.
After that, he started playing with the first team, and in 2016–17, he was a member of the group that won La Liga, the UEFA Champions League, and the FIFA Club World Cup. After that, he was acquired by Ligue 1 team Olympique Lyonnais, although he later moved back to Madrid.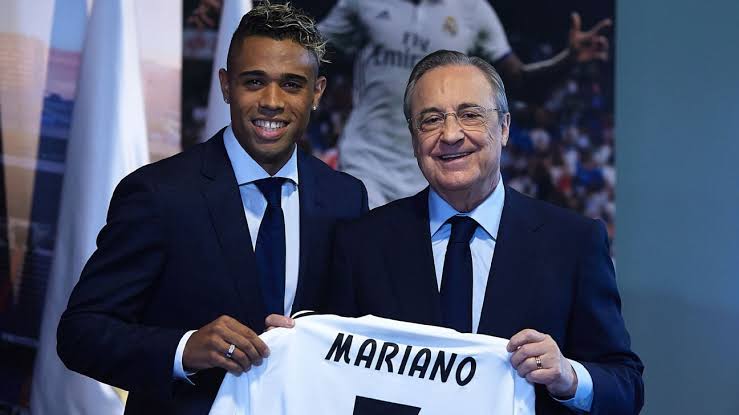 Mariano was born in Spain to a Dominican Republic mother and a Spanish father. In 2013, he participated and scored for the Dominican Republic national team during a friendly game. In an effort to play for Spain, he later left the Dominican Republic team.
Takefusa Kubo
Takefusa Kubo, a professional football player from Japan who was born on June 4, 2001, plays as a winger for Real Madrid of La Liga and the Japan national team.
Kubo committed to a five-year contract with Real Madrid on June 14. He had been anticipated to spend the most of the 2019–20 season playing for Real Madrid B, despite being registered with their U-19 squad.
He did, however, play frequently with Real Madrid's first team while they were on their preseason tour of Germany and the United States.
Borja Mayoral
Spanish professional footballer Borja Mayoral Moya (born 5 April 1997) plays as a striker for La Liga team Real Madrid.
After playing for the Segunda División B reserves, he made his first-team debut in 2015 after being trained at Real Madrid since he was 10 years old. He was also on loan to Roma in Serie A, VfL Wolfsburg in the Bundesliga, and Levante and Getafe in La Liga.
Mayoral, who has 48 caps and 29 goals, played for Spain up to the under-21 level. He led the scoring when the under-19 team won the European Championship in 2015; with the under-21 squad, he finished second in 2017 and first in 2019.
Dani Ceballos
Daniel Ceballos Fernández (born 7 August 1996) is a Spanish professional footballer who competes for Real Madrid of La Liga and the Spain national team as a central or attacking midfielder.
Ceballos began his professional career at Real Betis in Spain, where he assisted them in capturing the Segunda División. Real Madrid acquired him in 2017, and two years later he secured a loan deal with English Premier League team Arsenal.
In a 6-0 victory over Croatia at home in the UEFA Nations League in September 2018, Ceballos received his first cap for Spain.
Reinier Jesus Carvalho
Brazilian professional footballer Reinier Jesus Carvalho, also known as Reinier or Reinier Jesus, was born on January 19, 2002. He plays attacking midfield for La Liga team Real Madrid.
Reinier was agreed to be transferred between Real Madrid CF and Flamengo on January 20, 2020, with a deal that runs until June 2026.
For the remainder of the year, he was put in their reserves. There was an about $30 million cost. [9] He scored his first goal for the Castilla on March 7, 2020, against Coruxo.
Jesus Vellejo
Jess Vallejo Lázaro, a Spanish professional footballer who plays center back for Real Madrid, was born on January 5, 1997.
Vallejo reportedly paid €6 million to Real Madrid on July 31, 2015, and was then promptly loaned back to Zaragoza for a year. He moved abroad the following summer after signing a one-year loan agreement with the German club Eintracht Frankfurt.
Alvaro Odriozola
Lvaro Odriozola Arzalluz, a right-back for La Liga team Real Madrid and the Spanish national team, was born on December 14, 1995 (Spanish pronunciation: [born 14 December 1995]). He is primarily a full-back but can also play on the flank.
Real Madrid and Real Sociedad came to an agreement on the sale of Odriozola on July 5, 2018. According to reports, the fee was €30 million plus €5 million in add-ons subject to conditions.
On September 22, he made his professional debut, playing the full 90 minutes in a 1-0 victory over RCD Espanyol. On April 21, 2021, Odriozola scored his first league goal, the second in a 3-0 victory over Cádiz.