Raphinha scored a thunderbolt that gave Barcelona a 1-0 victory over Real Madrid in the early hours of Sunday morning.
Even though it was only a preseason game, the first El Clasico of the year pitted the two teams against one another in Las Vegas, and it was a contentious contest.
Following Jordi Alba's tripping of Real winger Vinicius Jr., there was a first-half brawl between the two teams' players.
However, it was a different Brazilian winger who ended up being the game-winner.
Eder Militao and Lucas Vasquez were under pressure from Barcelona's onslaught just before the half-hour mark, which caused Militao to rush his clearing.
Raphinha received the ball directly from Militao, who took a moment to gather himself before firing a rocket with his left foot.
The goalie, Thibaut Courtois, was unable to stop the ball from flying past him, and the crowd at the Allegiant Stadium went absolutely wild as a result.
Raphinha may not score a better goal all year but it is a goal he will live to savor for a very long time. It is his second goal since signing from Leeds United in a £55 million deal.
When he joined Barcelona from Premier League team Leeds United, he was keen on accomplishing a lot, but he also mentioned that he was more interested in defeating European Champions Real Madrid.
Before the El-Clasico game earlier today, July 24, 2022, Raphinha said: "I can't wait to help Barcelona beat Real Madrid." Hence, the Brazilian winger has already shown himself to be an asset for future El Clasico.
Despite being frequently connected with Chelsea and Barcelona, the 25-year-old fervently desired to play for the Catalan superpower and got his wish in a grand style.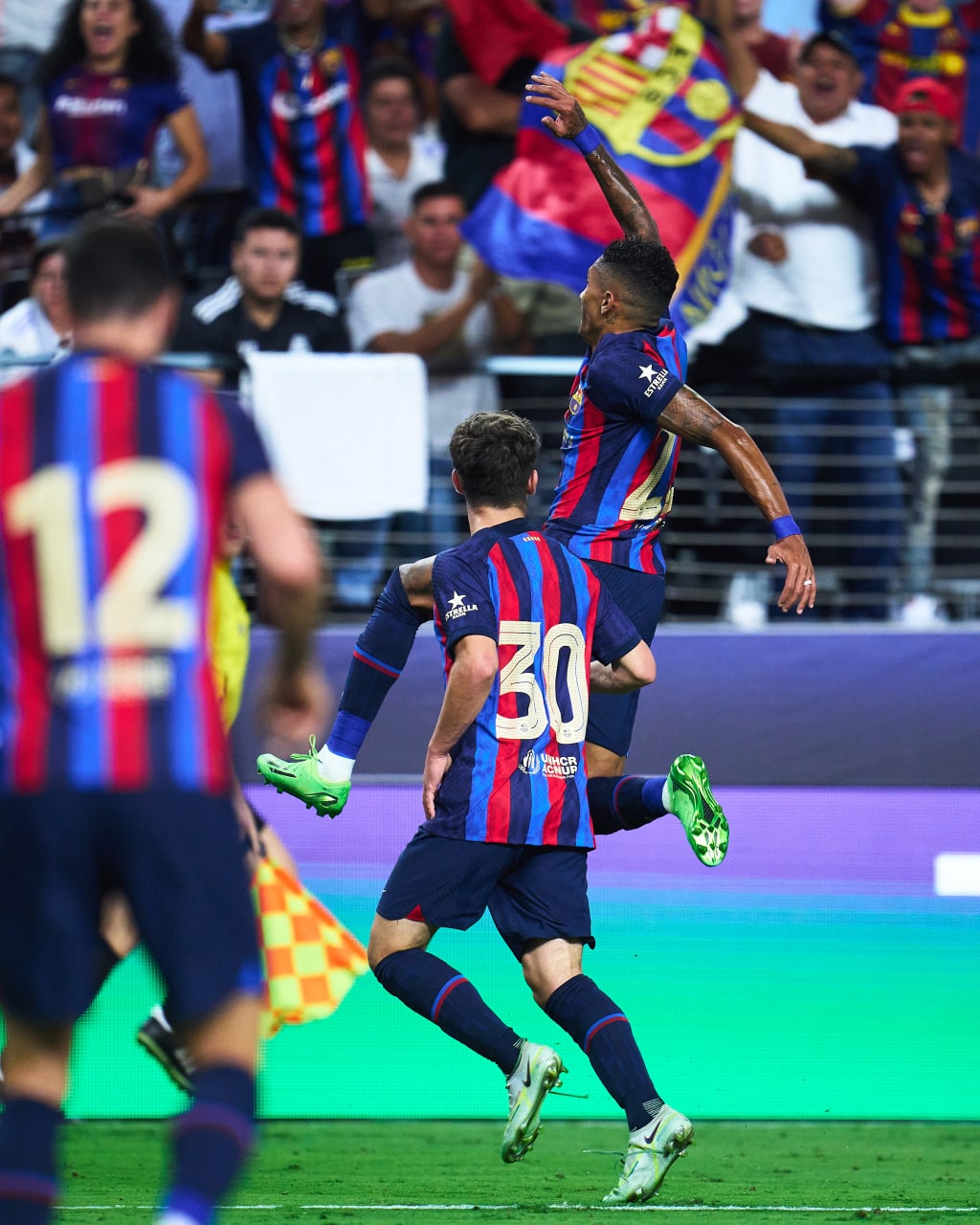 He is not their only frontline addition, though. Last week, Robert Lewandowski arrived from Bayern Munich and started the game from the bench.
Franck Kessie has joined the team in midfield, and Andreas Christensen has been added to the defense.
The aspect of Barca's attack that excites manager Xavi the most is its depth.
Xavi will have access to Pierre-Emerick Aubameyang, Ousmane Dembele, Ansu Fati, Ferran Torres, and Lewandowski in addition to Raphinha in the coming 2022-2023 season.
"You have already seen Raphinha prove that he is capable of making a difference, very dynamic, and he can play on both wings," Xavi said after the 1-0 win over Real Madrid.
"And Robertis a world star. A world star who comes with tremendous humility, who comes to help us, and who has adapted very quickly.
"The truth is, I am very happy with these two incorporations that at the same time give a lot of competition to the people at the top and thus we will all have to work even harder."
Despite their precarious financial circumstances, the Blaugrana are still trying to strike a deal for Sevilla center back Jules Kounde.
The previous season, Barcelona finished in second place in La Liga, 13 points behind their fiercest rivals Real Madrid.