Who are the favorites in the Premier League top-four spot, which is more challenging than usual because some teams have games in hand? Continue reading for our guide to this season's Champions League qualification battle.
Here are the most recent Premier League top four odds for the season 2021/2022:
Premier League top four odds:
Probability % provided by StatsPerform
| | |
| --- | --- |
| To finish top four (in any order) | Sky Bet |
| Arsenal, Chelsea, Liverpool, Man City | 8/13 |
| Chelsea, Liverpool, Man City, Tottenham | 5/4 |
| Chelsea, Liverpool, Man City, Man Utd | 40/1 |
| Arsenal, Liverpool, Man City, Tottenham | 200/1 |
| Chelsea, Liverpool, Man City, West Ham | 750/1 |
You have to be 18+ to gamble. All odds within this article are accurate at the time of writing (19:45, 23/04/2022).
Liverpool and Manchester City are a foregone conclusion to finish in the top four this season.
Chelsea is 15 points behind City, and while their recent downturn has made their position more perilous, they still have a five-point lead over fifth-placed Tottenham (along with a game in hand) to keep Thomas Tuchel's team in third place.
Arsenal, on the other hand, appears to have emerbed from the ashes, having won two games in a row against Chelsea and Manchester United to climb into fourth place, two points ahead of Tottenham.
It's all in Arsenal's hands now, with Manchester United and West Ham United dropping further behind.
Arsenal
Arsenal's stronghold on the fourth place was severely weakened by three successive defeats to Southampton, Crystal Palace, and Brighton. However, two remarkable victories over Chelsea and Manchester United have given the Gunners new life in the quest for the top four.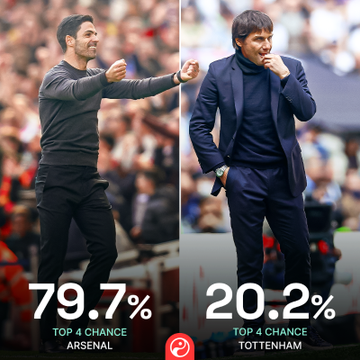 The remaining fixtures: are West Ham (A), Leeds (H), Tottenham (A), Newcastle (A), and Everton (H).
Tottenham
Antonio Conte's side has won four games in a row, putting them in a strong position to return to the Champions League. However, their aspirations have plummeted in the last week. They first lost to Brighton before drawing a goalless draw with Brentford in which they failed to register a single shot on target.
Spurs' fate, though, remains in their own hands, since they must play Arsenal at home before the season's end. They'll be there if they win all of their games.
That matchup is expected to have a significant impact on the outcome of the race.
Remaining fixtures: are Leicester City (H), Liverpool (A), Arsenal (H), Burnley (H), and Norwich City (A).
Manchester United
Manchester United's dreams were snatched away at Everton, and the flicker of optimism afforded by a 3-2 victory against Norwich was quickly snuffed out by losses to Liverpool and Arsenal.
United is now in sixth place, two points ahead of West Ham in seventh place, despite having played one more game. Ralf Rangnick's team is now six points behind fourth-placed Arsenal, who also have a game in hand on United. The Europa League, or even the Europa Conference League, has beckoned.
Remaining fixtures: Brentford (H), Brighton (A), Chelsea (H), Crystal Palace (A)
West Ham United
There's a sense that West Ham's recent domestic woes have been exacerbated by their involvement in the Europa League – and perhaps their lack of focus.
The Hammers' defeat against Brentford over the weekend was their third in five games, putting them eight points behind fourth-place with only five games remaining. They are heavy underdogs to finish in the top four, but if they win the Europa League, they will automatically qualify for the Champions League.
Remaining fixtures: Burnley (H), Chelsea (A), Arsenal (H), Norwich City (A), Man City (H), Brighton (A)