After months of negotiations, Ousmane Dembélé is claimed to have decided on his future. The winger's contract is set to expire at the end of the season, and Barcelona is determined to keep him from leaving for free.
The talks have been going on for a few weeks, but they have been delayed because Barca has been unable to offer a very attractive agreement due to their financial condition.
Some weeds remain on the pitch in the physical shape of Philippe Coutinho and Ousmane Dembele, two stars who rarely shone their light over Barcelona.
One of Barcelona's three brightest was taken to Paris for €222 million, and it has had the same effect as if one from Orion's belt had vanished, as the people of Barcelona have no idea where to look and have yet to discover a good substitute.
Dembele wears the label of Neymar's replacement, but for a player with so many testimonials, he has had his fair share of misfortunes and disappointments.
It has left Barça short in a crucial position, which has been highlighted more than ever this season, with players like Sergino Dest and Gavi forced to play out of position to cover for the Frenchman's absence, hampering their growth in the process.
With hindsight, it's worth considering how well-planned the former Borussia Dortmund player's signing was. On the surface, the World Cup winner appears to be a fantastic talent, but did anyone analyze his injury record to see if he was worth the exorbitant sum or if there was a better-valued alternative?
With a new deal for the Frenchman on the horizon, these topics must be revisited. Is Dembele worth the wait, how much money can they risk, and is there a less expensive option to the injury-prone winger?
Dembele had a good season at Barcelona last season, but could a new deal bring more difficulties than solutions?
The untold truth
In typical circumstances, criticism of a signing worth more than €100 million is proportional to the amount of money given and the value of the performances received in return.
Players with such a hefty price tag are usually worth it, and the odds of failure appear to be very tiny at the time.
Paul Pogba and Antoine Griezmann, both French, are instances of exceptionally brilliant players who were unable to produce at their best in their new surroundings on a consistent basis for one reason or another, but Ousmane Dembele falls into an uncommon category.
Although he hasn't lit up the Camp Nou on a consistent basis, it is due to the winger's inability to gain any momentum due to his frequent injuries. Eden Hazard's situation at Real Madrid is similar.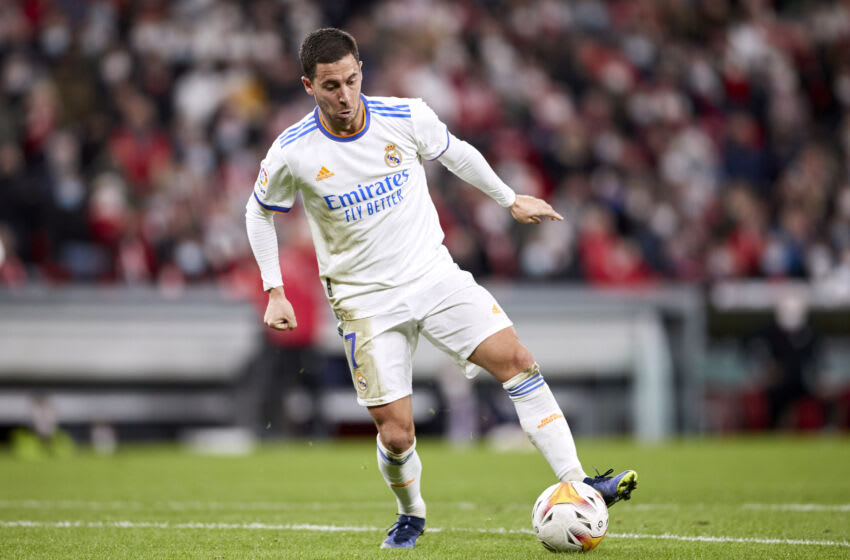 The Belgian's deal looked reasonable at the time, but his inability to remain healthy has transformed a promising signing into a nightmare for Barça's bitter rivals.
Is it a case of bad luck, or is it the fault of the player or the club? On the surface, the two situations appear to be hauntingly identical, and the clubs may be held responsible.
Dembele has missed a total of 99 games for Barcelona since coming in the summer of 2017 due to a string of 13 different injuries – an average of one injury per four months during his time in Catalunya.
On that extensive list of setbacks, there is one standout that should be a major concern for Barcelona: the Frenchman's recurring hamstring ailment, which he is presently recovering from.
The Catalan giants are concerned for two reasons: the first is the reoccurring nature of the problem, and the second is the impact the muscle damage will have on the winger's speed.
There's no point in guessing or blaming either the player or the medical staff for Dembele's persistent misfortune, but it's clear that his injury woes aren't due to bad luck. If Xavi wants to keep the World Cup winner in his squad, he'll have to figure out what's causing the repeat.
On Hazard's ailment list, there is also a noticeable recurrence of the persistent issue of muscular difficulties. We'll never know whether this is due to the athlete or the medical personnel, but it's hardly a coincidence.
The fact that the Belgian international was free of these setbacks during his time at Chelsea will make fans question, thus supporters of the players may point the finger at medical professionals in both circumstances.
A concern for Dembele and Barça is that these muscular problems start to eat away at his pace.
Hazard's pace has slowed significantly since his departure from Chelsea, and he no longer resembles the player who departed Stamford Bridge in the summer of 2019 due to the impact it has had on the Belgian's ability to take on opponents.
Ousmane Dembele is expected to join Barcelona next season, assuming nothing unexpected occurs. Joan Laporta is reportedly planning to provide the World Cup champion a 'pay as you play' deal based on appearances in order to protect themselves against potential injury setbacks – a nice gesture, but one that could still be problematic.
Xavi, the Catalan club's new manager, is a fan of the Frenchman and addressed the winger's issue during his unveiling on Monday. At his press conference, the Barca legend stated:
"It's obvious to me that Dembele must stay at Barcelona…
He has the potential to be the best winger in the world, and we must assist him in achieving that goal. At Barcelona, he is a player who can make a difference. His rejuvenation is a top priority."
This is all well and good, but the problems will persist if the Frenchman's injury troubles do not improve. If that player leaves the team short in a crucial position, a contract based on appearances is not worth the money saved.
So, whether he remains or not, Xavi will require a successor or backup next season.