Cristiano Ronaldo surprised girlfriend Georgina Rodriguez with a laser performance that projected her face onto a Dubai landmark for her birthday.
The 36-year-old father-of-four spent tens of thousands of dollars to illuminate Dubai's skyline with visuals from her new Netflix show.
On Instagram, he shared a video of the stunning Spaniard's face on the renowned Burj Khalifa tower's facade.
Georgina's name popped up in neon on the tower as part of the light and laser show.
The words 'Happy Birthday Geo' was written in large white letters above a photo of the lovely Spaniard wearing a glamorous off-the-shoulder black gown.
Watch Video Below:
In the video Cristiano shared, the voice of a woman presumed to be Georgina, as well as that of a little girl thought to be the footballer's four-year-old daughter Eva or the couple's four-year-old daughter Alana Martina, could be heard in the background.
After witnessing the incredible footage, one fan even suggested on Cristiano's Instagram that Georgina and her soccer star partner would end up married in Dubai.
Cristiano, who is taking a break from his hectic football schedule to spend time with his four children, tweeted alongside the breathtaking video footage in Portuguese: "Many congrats my love," adding heart and birthday cake emojis.
On the brink of the Burj Lake, the Burj Khalifa light and laser show is a huge draw in the luxurious Middle East sunny resort.
With roughly 18 miles of wires, 1.1 million pixels, and 118 tons of light beams and accessories, the iconic tower transforms into the world's largest display screen at night.
SEE ALSO
According to recent estimates, a three-minute promotional ad or message on the tower's front costs at least £50,000, with prices rising on weekends.
Cristiano, who owns a £20 million private plane and a fleet of high-end sports cars, has a net worth of roughly £373 million and can easily handle it.
The Manchester United legend is celebrating her 28th birthday as well as the launch of I Am Georgina, a Netflix series chronicling Georgina's rags-to-riches story.
The brunette beauty, who met the Man United striker in 2016 while he was still with Real Madrid, was a £10-an-hour store clerk, now flies throughout Europe in his Gulfstream G20 plane.
It has a top speed of 560 mph and a range of up to 3,910 miles with four passengers on board, making it ideal for rapid trips between the footballer's new base in England and European cities.
Before Christmas, Georgina took it to Lapland so Cristiano's four children, including their daughter Alana Martina, could meet Santa.
"To me, the best part of traveling in Cris's jet is its crew, no sure," she said on her new Netflix show, "and the jet does actually make life much easier."
"I'd go nuts if I had to remain in an airport for two hours with Cristiano," she said as she boarded a jet to Paris to chose an outfit for the Cannes Film Festival at Jean Paul Gaultier's studio. I mean, I'm not sure I could go; I'd prefer not travel."
Georgina also revealed on the episode that she went from taking public transportation to meet Cristiano in 2016 at the Gucci shop to being chauffeured about in his fleet of high-powered sports cars.
"Many times he'd come after work and I'd get out after 10 at night," the model and influencer, who grew up in the Spanish Pyrenees city of Jaca, recalled.
"I recall him showing up in a Bugatti. My coworkers were really insane. I'd take the bus there and leave in a Bugatti. People couldn't believe what they were hearing."
Cristiano, who appears on the show and admits he quickly realized "Georgina was the woman of my life," continued: "To me, it was 'natural' in the sense that she was already my girlfriend."
"I'm familiar with my vehicles, and I'm not going to take her in a cab."
"It was amusing because I'd park my showy cars outside the store and wait for her."
"In that regard, Georgina is exceptional. She'd rush out of the store, jump in the car, and drive us home."
He admitted it wasn't love at first sight with his long-term partner, Alana Martina, who raises their four-year-old Alana Martina and his three children as if they were her own and is currently five months pregnant with twins, saying: "I didn't think it would be this strong and I would fall in love with her at the beginning."
"To be honest, I wasn't expecting it." But after a while, I had the feeling she was the one."
Georgia verified she was in Dubai late today by uploading photos of herself arriving at a red rose-adorned table on the beach, which was set against a backdrop of red and black balloons and a gold number 28.
Because of the heat and her five-month pregnancy, she appeared to be suffering slightly as she walked toward the table in the video she published.
She was with Cristiano's twins Eva and Mateo, as well as their four-year-old daughter Alana Martina.
The birthday girl also displayed some of the Netflix gifts she had received.
I Am Georgina – or Soy Georgina in Spanish – is available to stream in 190 countries.
Cristiano Ronaldo and His Kids
Cristiano Ronaldo is a proud and caring parent of 4 kids in addition to being the GOAT in Premier League football.
The Portuguese international, who returned to Manchester United after a deal with Juventus fell through, confirmed on Thursday, October 28 that he and his girlfriend Georgina Rodriguez are expecting twins.
Cristiano Ronaldo Jr. 12-year-old
Cristiano Jr., the football star's eldest son, was born on June 17, 2010.
Eva and Mateo Ronaldo – 5 years
Cristiano Ronaldo delivered twins Eva and Mateo Ronaldo via surrogacy in June 2017.
Alana Martina – 5 years
Alana Martina was born a few months after Eva and Mateo (November 12, 2017). She is Cristiano's first child with Georgina Rodriguez, his girlfriend.
Cristiano Ronaldo Jr., his first son, has already made an impression with his goal return for Juventus' minor teams.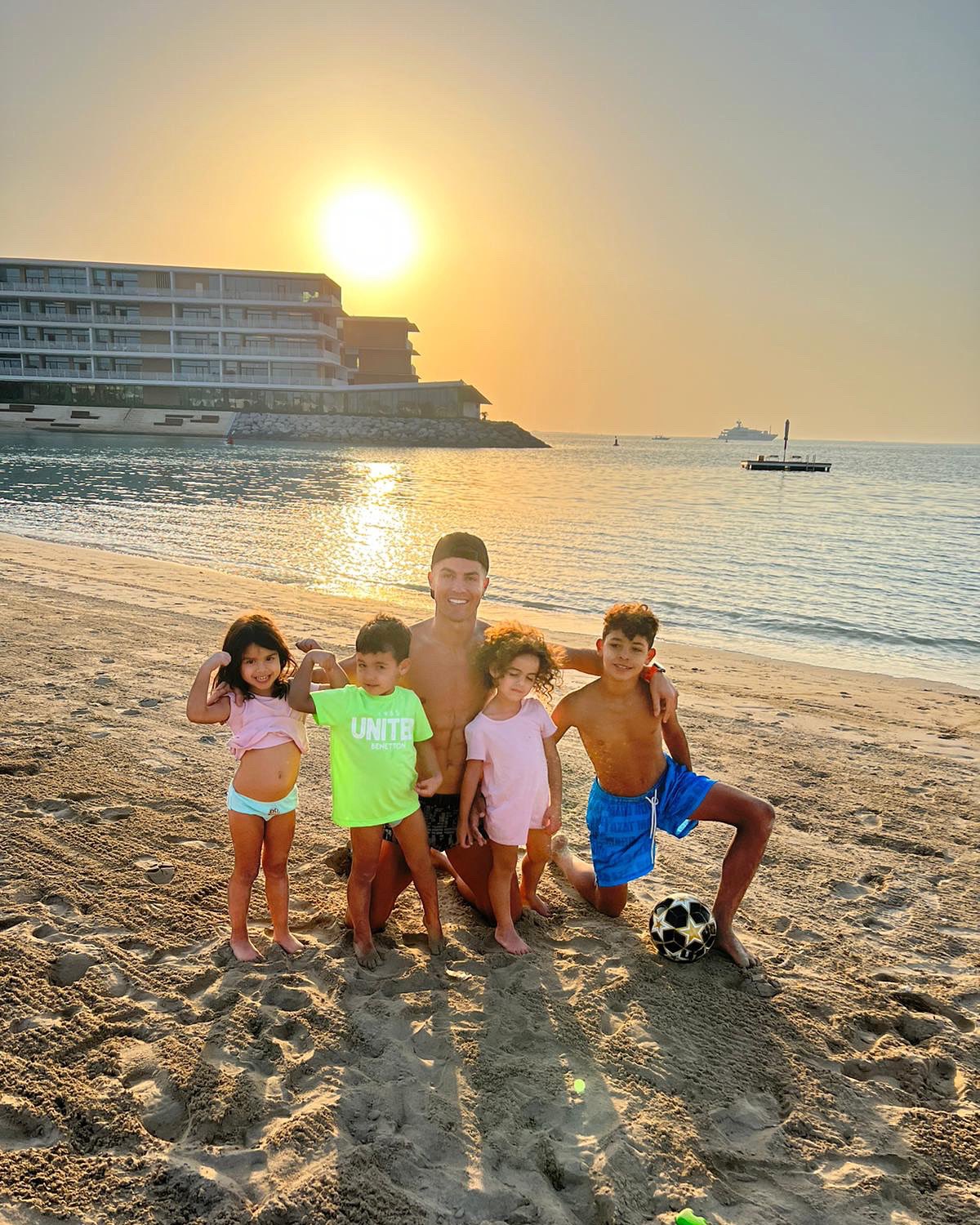 Cristiano Jr was born in the United States on June 17, 2010.
Dolores, on the other hand, whisked him back to Madrid to begin his life with his father.
Cristianinho, which means "little Cristiano," is Cristiano Jr's family nickname.
Ronaldo and Georgina said they are expecting again on October 28, 2021.
The delighted pair also revealed that they are expecting twins on Instagram.
He wrote: "Delighted to announce we are expecting twins👶🏻👶🏻. Our hearts are full of love – we can't wait to meet you ❤️🏠"
#blessed.