Chelsea FC 2022/2023 home jersey has been leaked. JD Sports released a video of the New Jersey recently.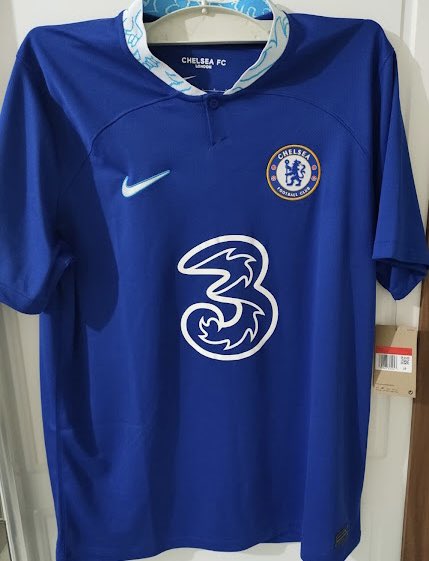 The Blues' jersey for the upcoming season was previously unknown because a kit introduction did not take place on its scheduled date in May due to the club's restrictions.
All marketing agreements were put on hold after Roman Abramovich was sanctioned back in February, so the Blues had to wait to introduce the uniform when new owners are in place.
The kit was scheduled to launch more than a month after Todd Boehly and Clearlake Capital took over the Premier League club.
Then, it wasn't certain if the Blues would have Three UK as their shirt sponsor after the corporation requested to have its name taken off the shirts during Abramovich's suspension.
Chelsea refused to comply with their request to have the logo removed from their uniforms and kept using it during games.
According to the image of the new home jersey, Three will play an important role once again in the forthcoming season.
While the Blues have yet to formally introduce the uniform, JD Sports has made it available for purchase in the USA.
Given that American Chelsea supporters can request quick delivery and have Chelsea's home jersey as early as Monday, it is unclear whether this was a scheduling error on the part of the provider.
In the upcoming days or weeks, the Blues are anticipated to officially unveil the uniform and list it for sale on the megastore.
Chelsea supporters have responded to the jersey on Twitter after it initially drew criticism when the leaked version surfaced.
"It's wonderful, but I'd like to see the complete outfit with shorts", said one user. Another added, "The more I see it, the prettier it gets."
Others, though, remained unconvinced and exclaimed, "Horrible!"
Chelsea may have been aiming to introduce the new uniform alongside a new signing after agreeing to pay Leeds United £55 million for Raphinha.
A transfer for the Brazilian, however, has been called into question as it emerged that he is waiting for Barcelona to establish their financial status.
However, due to Leeds's desire to keep their pledge to Chelsea after accepting the offer, it's possible that Barcelona won't end up with the business.
What's your reaction to the 'leaked' #Chelsea 2022/23 home kit, Blues? pic.twitter.com/9qFCmlXHOC

— Absolute Chelsea (@AbsoluteChelsea) June 30, 2022
It's still possible that the Blues may announce a signing alongside the kit soon, although it's uncertain when that will happen after JD Sports' unveiling in the USA.