Mikel Arteta fielded a much-changed Arsenal side against Sunderland last night, giving Eddie Nketiah a rare chance to impress, and he duly came away with a true center-forwards hat-trick.
Eddie appears to have rejected down the option to leave in the summer and fully wants to depart on a free transfer at the conclusion of the season. Of course, Arteta was asked after the game if he wanted Nketiah to sign an extension with the Gunners.
"I tell you every day that we want to keep Eddie." Arteta told Arsenal.com. "We see how he trains, that's what he does every day, he works so hard and puts the ball in the net every session. I am really delighted with him. Every time we have needed him he has always responded."
Arteta went on to relate what happened with Eddie over the summer and how he thought he was about to leave. "Based on how we organized the team and how his situation seemed in the window, he had a lot of options, and we decided that was probably the best way to go."
However, due to the way we constructed the team, the scenario changed and he elected to stay, making it difficult to find minutes for him. But he's finding his niche right now and making good use of his minutes."
Could Nketiah be persuaded to sign? "We're making an effort." Arteta confirmed once more. "It's only about minutes." He wants game time, he wants to be on the field, and that is the only reason he asks, 'Can I do it here?' That is the query. We'd all like him to stay.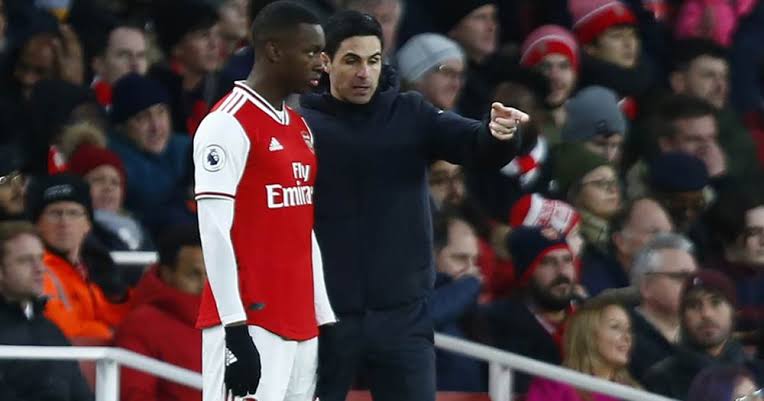 "Yes [he will play more]. Recently he's played more minutes than in the past and we're going to need him and he's going to play more minutes.
"I don't know if he's different to other other strikers but I really like what he has. He has incredible work rate, he has pace and has the smell for goals. He has the capacity to finish in the box on any surface and then I really like his character.
He aspires to be the best and works tirelessly to achieve that goal. He's a player who has progressed through our system, which is why we want to keep him."
With Aubameyang out of the picture for the time being, Eddie is left with Lacazette and Martinelli to contend for opportunities.
It remains to be seen whether Eddie will be given other opportunities…